We took a 1-week trip up to the Canadian Gulf Islands earlier this summer. An early morning (4am) departure from Kingston marina put us at Admiralty Inlet at max ebb under motor, so we were getting a 5 knot boost from the current and moving at 10-12 knots. That was great until we entered the straits, where the wind picked up to about 10 knots out of the north. Even a light wind blowing against a 5 knot current can create short-period, extremely steep waves. We went from a smooth 10 knots to a very uncomfortable 5 knots bucking into 10′ waves. After about 30 minutes of this (enough time for some crew seasickness to set it), we got far enough into the Strait of Juan de Fuca (living up to it's nickname Strait of Wanna Puke-up) for the ebb current to subside and the wind shifted enough to the west that we sailed most of the way to Victoria.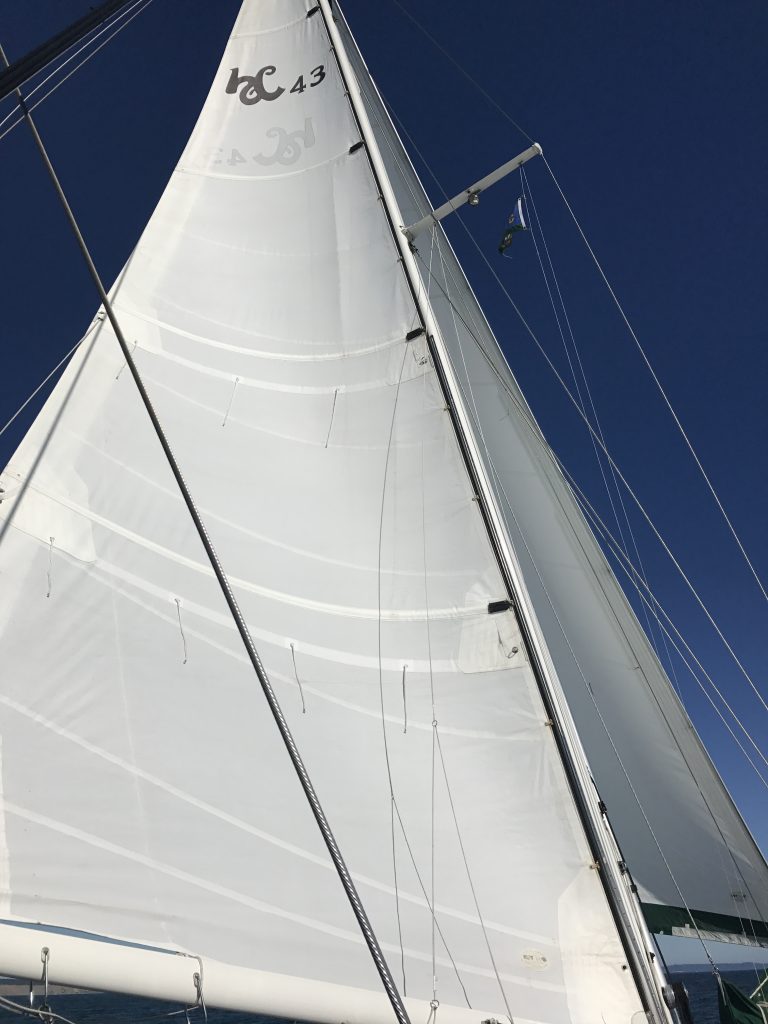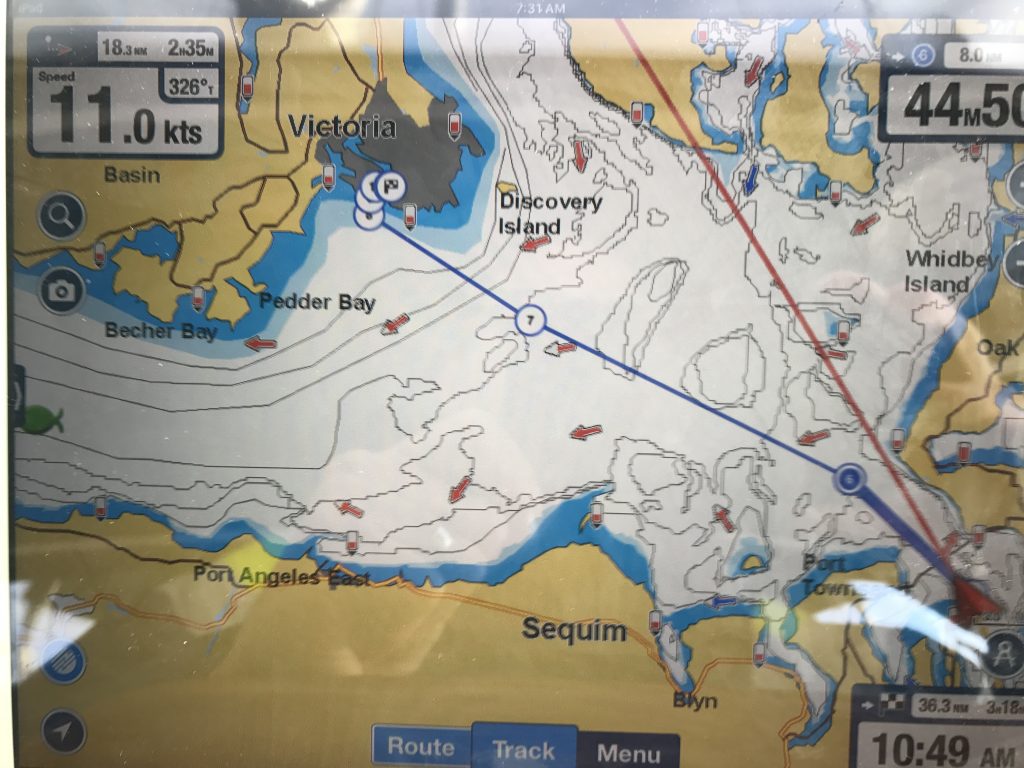 Clearing into Victoria was easier than last time we were here (over 5 years ago). The new customs dock is located in a nice area away from the busy east bay where it used to be. The dock is now much bigger and has enough room for several big boats to tie up. The phone check-in took 15 minutes, then we were on our way to tie up to the outer side of a long dock just north of the Empress Hotel. Our 2 days in Victoria were spent visiting our friends and fellow Hans Christian owners Lance and Carol, having afternoon tea at the Empress, and eating at some nice waterfront restaurants. Top on our list was a Fish -n Chips stand next to the marina that seemed to have an hour-long line any time of day, and it was well worth the wait.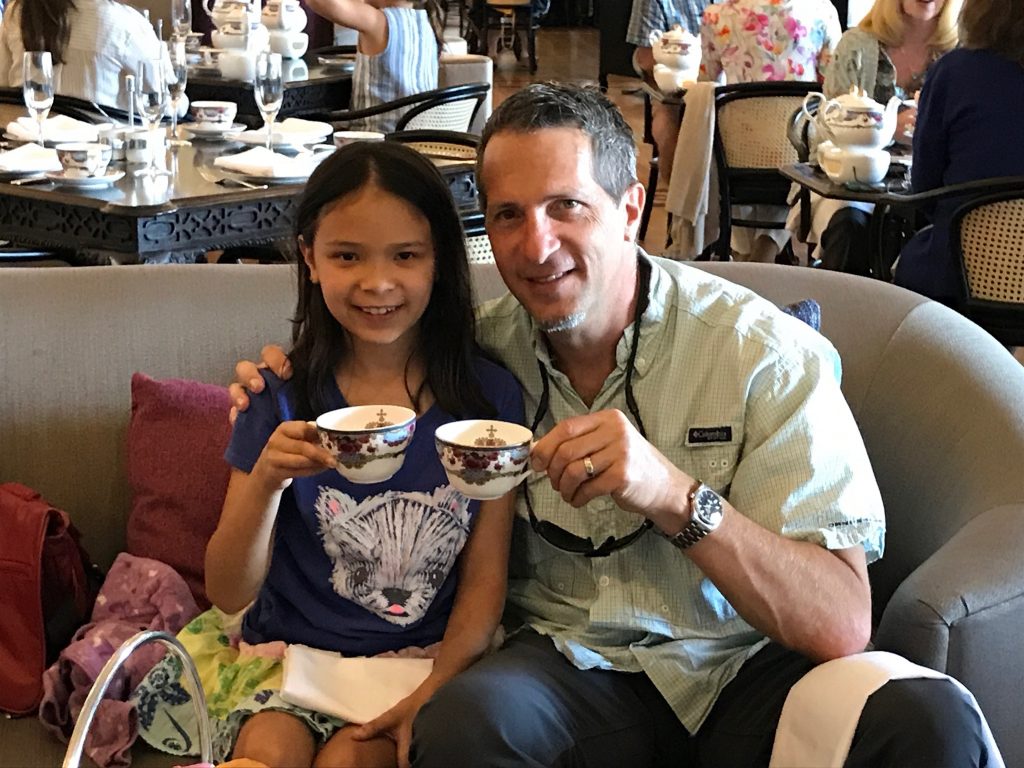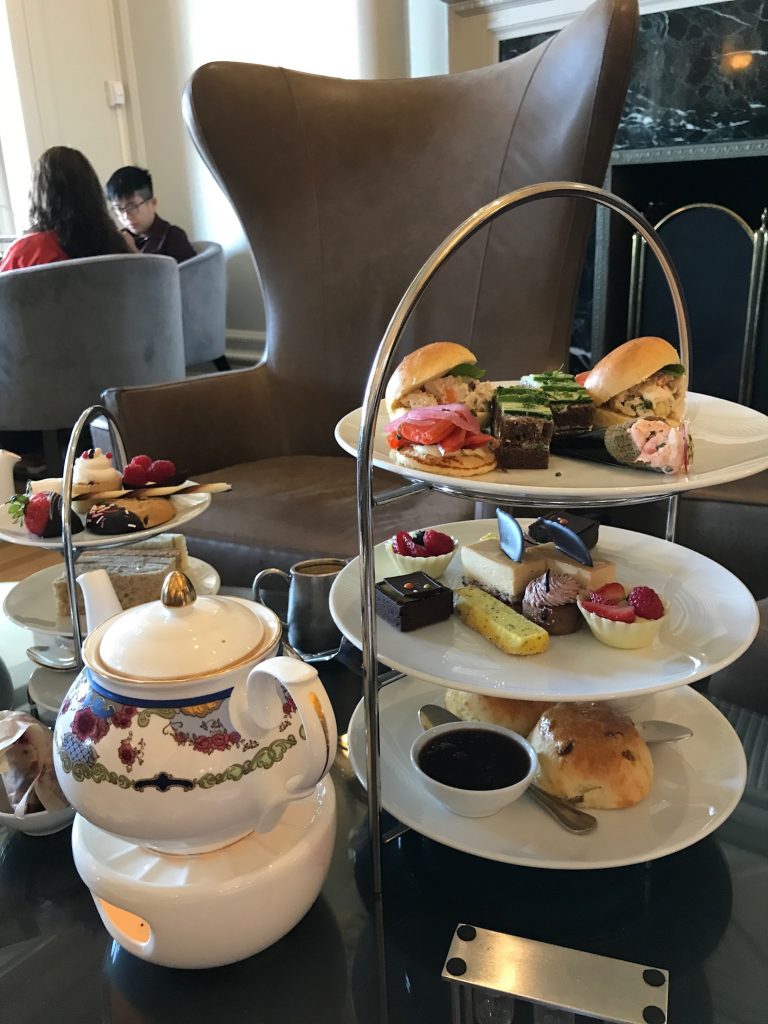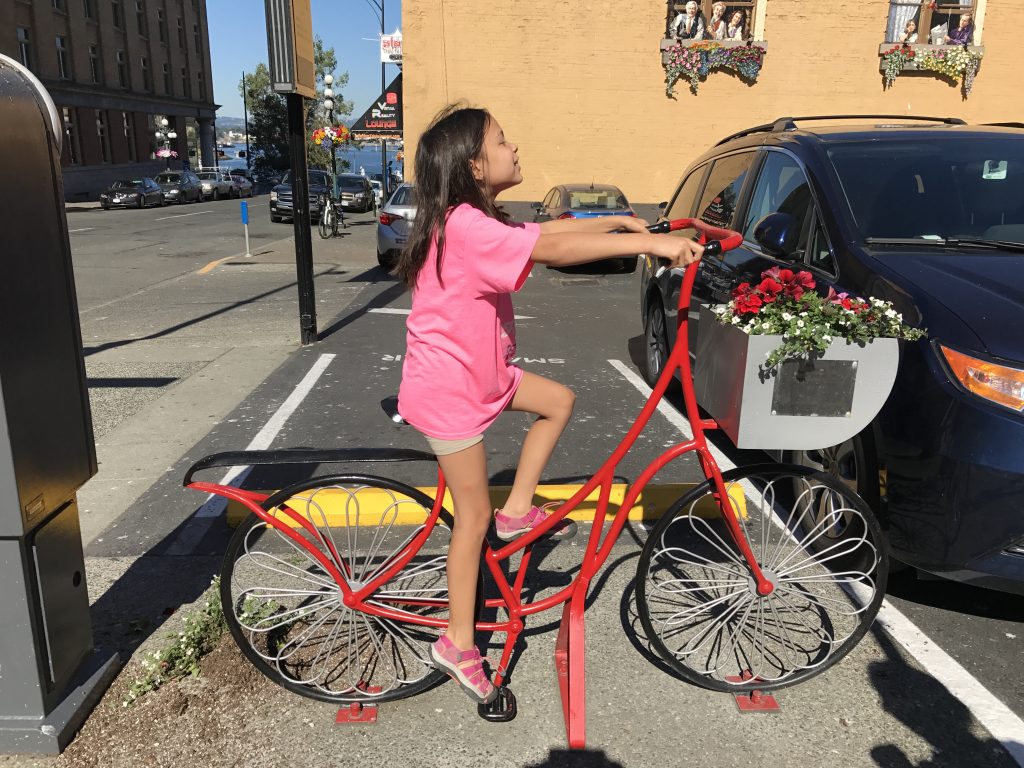 Our next stop was a short 3 hour sail north to Piers Island to visit the crew of Seahorse V, a cruising family we first met during the Baja-Haha rally in 2015, and shared a few anchorages with in various Mexico harbors. We tied Apropos up to their private dock with a nice aluminum ramp leading to their waterfront house. Jacintha was happy to see Billy and Gracie, and it was great to catch up with Cap'n Steve and Tina, whose boat is currently in the Caribbean (just outside the hurricane belt, thankfully).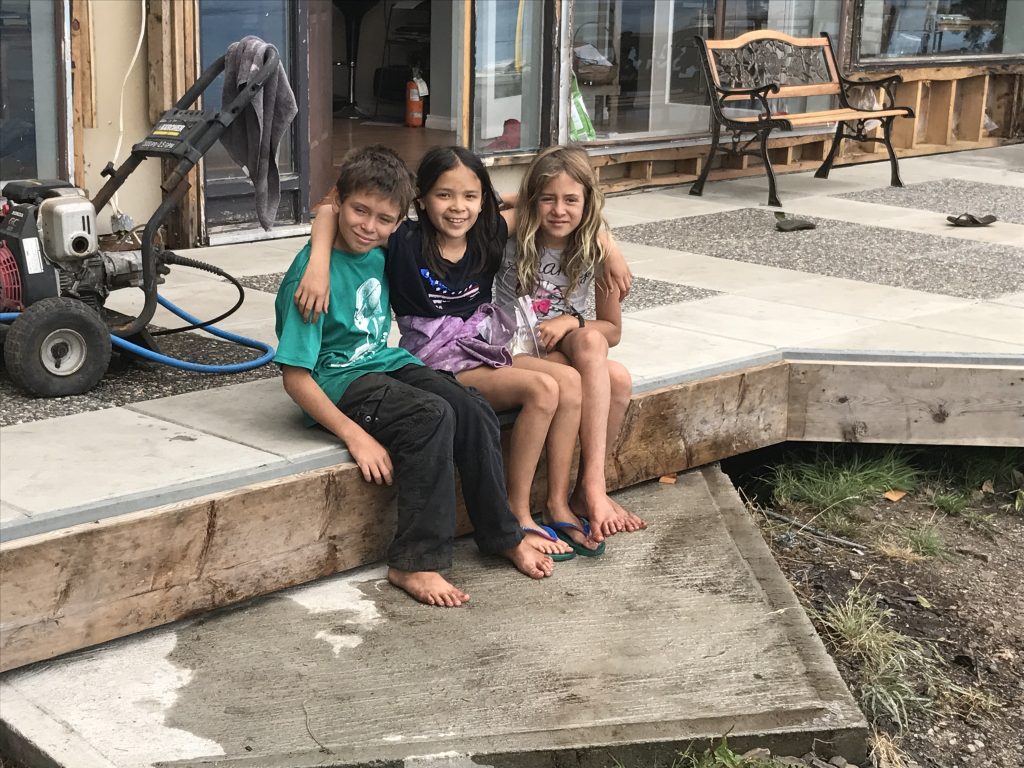 Our next stop was another short sail north to Saltspring Island and the harbor of Ganges. This was our 3rd visit to Ganges and is one of our favorite Gulf islands. We spent a relaxing 2 days there reading, playing ukulele, and visiting coffee shops, restaurants, bookstores, etc. I also managed to tear into the dinghy engine that was having problems starting. The last time I took apart and cleaned the carburetor was in French Polynesia, so lots of varnish from gas had built up in the float bowl and clogged the small openings inside the throttle body.
We cleared back into the US at Roche Harbor on San Juan Island, and anchored overnight in the bay. This was the first real need for the dingy and the engine started right up, but ran poorly at higher rpms, so I suspect the inline fuel filter needs replaced. It worked well enough to get us back and forth from the anchorage, so that was good. The highlights were visiting the outdoor sculpture park a short walk from the marina, and having bloody mary's and french dip at our favorite cafe. Jacintha talked us into spending a few hours at the outdoor pool with Karen, while Champ (more on him later) and I relaxed under a shade tree near the pool.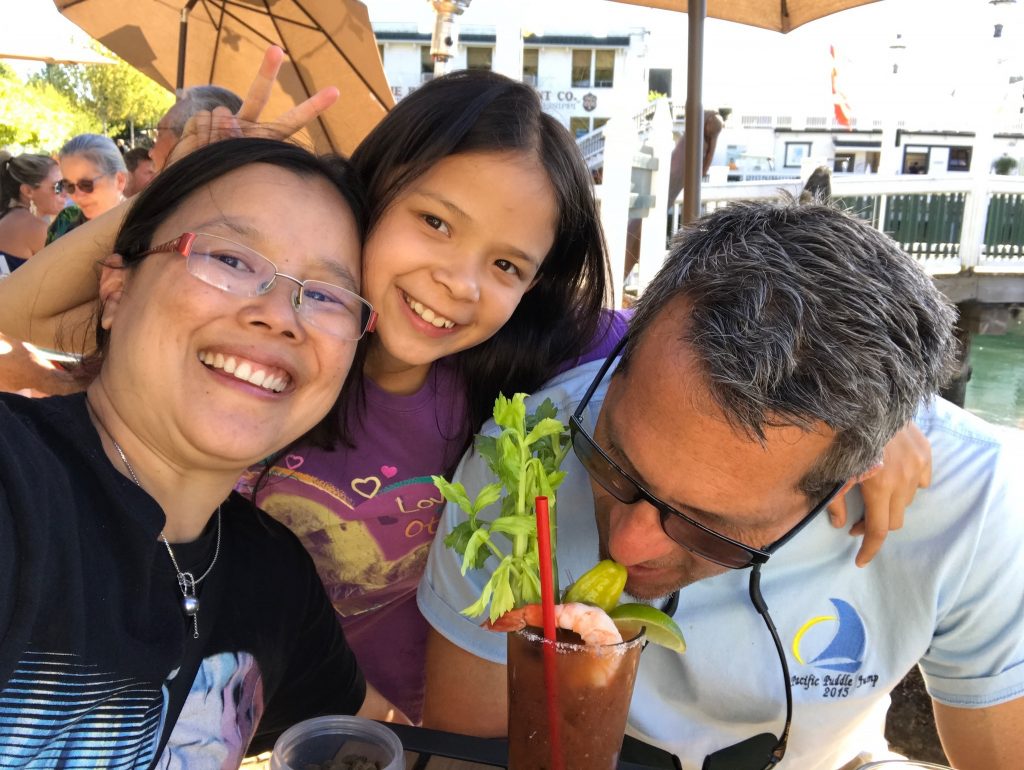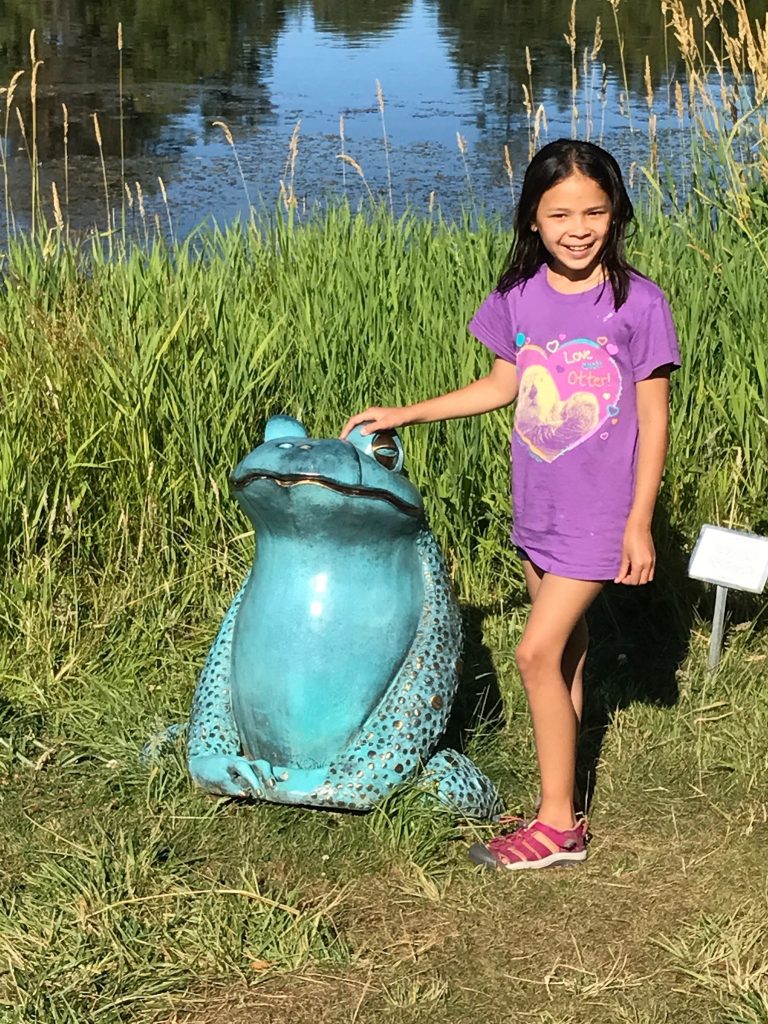 The trip back to Seattle went well as far as timing the tides. We sailed the entire way from Roche Harbor to Kingston, getting in just after dark and anchoring near the ferry landing outside the marina. We made it back to Lake Union the following day to complete an 8-day cruise that covered about 200 nm.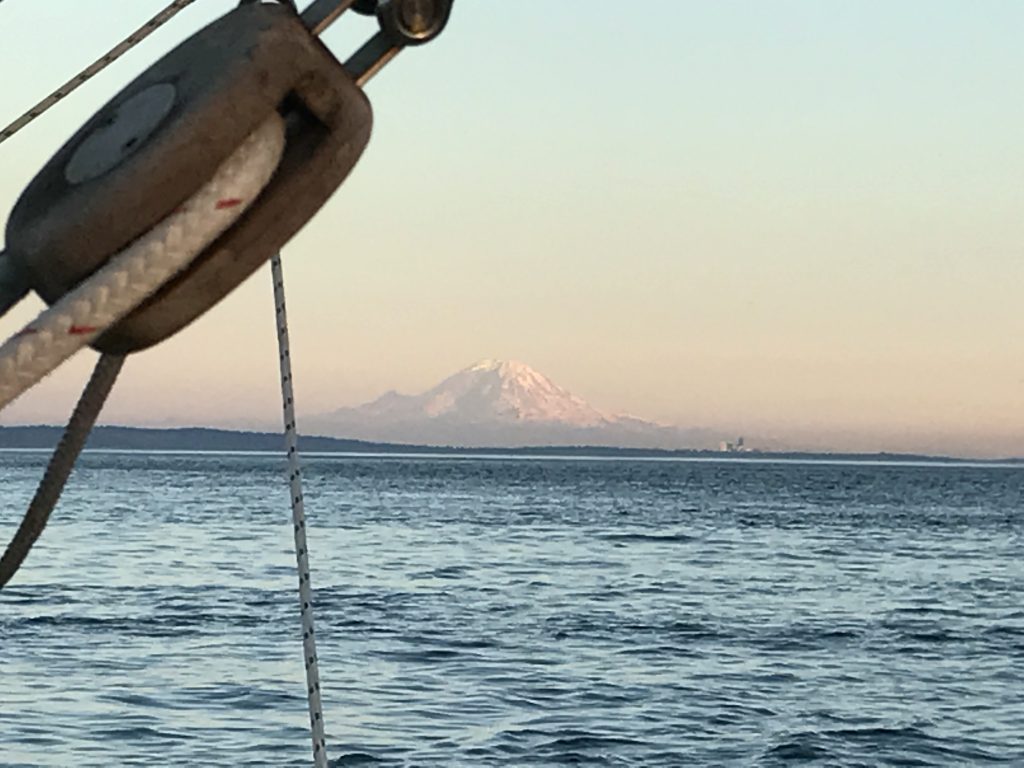 Champ (our newest crew)

Champ is our dog we've had for almost a year now. He's a mixed breed (mini poodle & terrier) rescue dog who came to the the US from Tijuana, MX. This was Champ's first sailing trip so he deserves his own section in this post. He did extremely well and makes a great boat dog. The biggest challenge was to figure out how and when to get him off the boat for potty breaks. Before we departed Kingston marina at 4am, we took him for a quick walk. Good thing he peed because we wouldn't be on land again for 12 hours. After we were in Canadian waters, the passages were shorter and it wasn't a problem. He had a lot of fun running around Piers Island with another dog and when he returned he was a black dog. We hosed him down before getting back on the boat. He's quite comfortable on the boat and likes to be in the sun sitting in the cockpit. The trip from San Juan Island to Kingston took about 12 hours, then we dropped anchor and spent the night. We tried to get him to use a 2'x2′ square turf that's made for dogs, but he just wanted to sit on it. In the morning, we motored into the marina to fuel up and let Champ go to the bathroom. Yes, Champ has great control of his bladder (although he seems to eat/drink less while we are sailing underway)!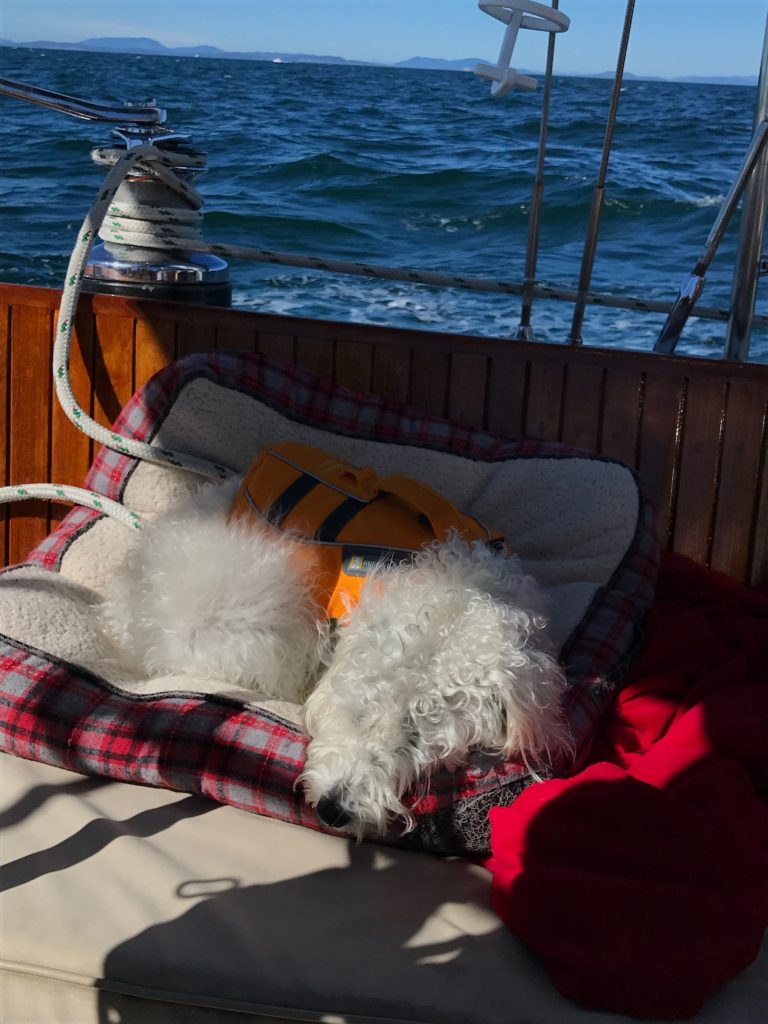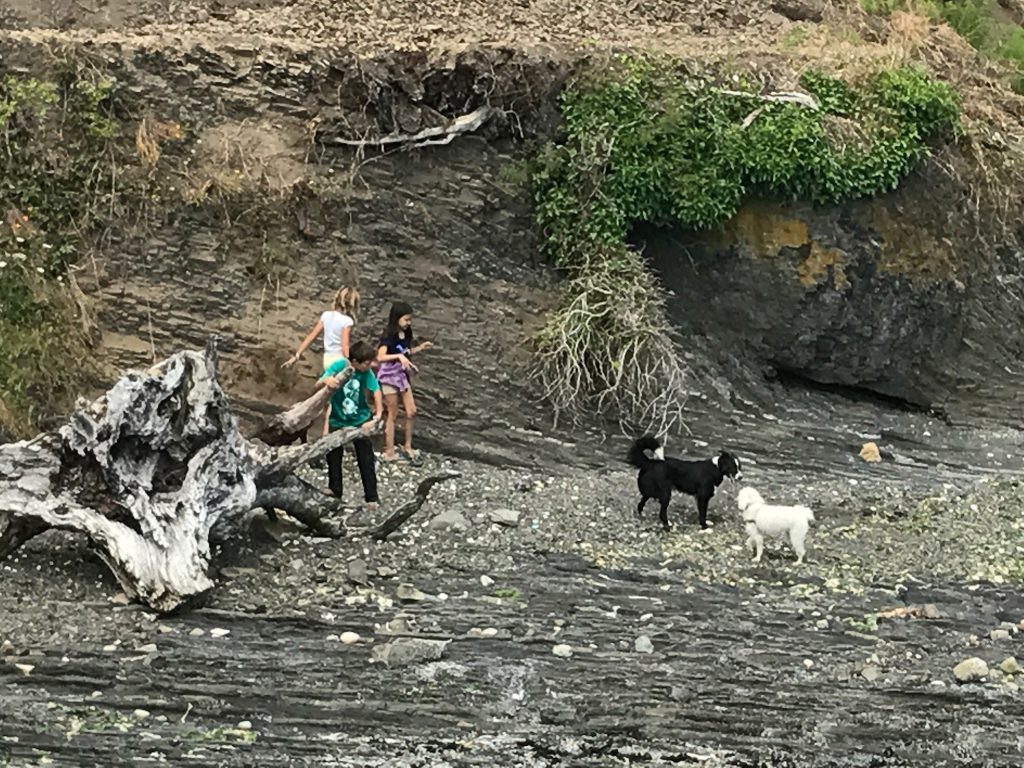 Exploring Piers Island at low tide