I'm very excited. After some basic sewing lessons and practicing with a home sewing machine we bit the bullet and bought "The Beast". It's a Sailrite Ultrafeed LSZ, a portable semi-industrial sewing machine. We got it from sailrite.com and I've been combing through all their instructional videos which have been very helpful.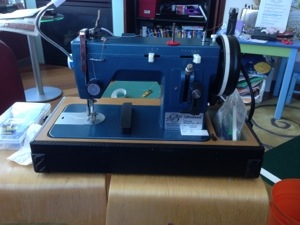 Jim is creating a to-do list for me of boat sewing projects which is daunting since my sewing experience has been limited to 2 tote bags, a zipper bag, a pillow, 4 place mats and 2 bows! This includes weather cloths, dinghy cover, cover for our new BBQ grill, rope bags etc etc.
I decided to start with weather cloths because how hard can it be to sew a few rectangular cloths up. Wrong!!!
We wanted to be able to take them off easily made the design of them more complicated than sewing a rectangle of Sunbrella, lining it with grommet holes and lacing it to the boat.
Firstly, I used my primary research tool, Google. There i found lots of photos and some canvas blogs on boat sewing that we're useful. I also watched all the how to videos produced by Sailrite the makers of The Beast. Good videos on techniques is sewing canvas and other tools needed for all kinds of projects.
Then I went and bought a large amount of Sunbrella in Hemlock tweed.
I used some blue wrapping material that I recycled from the OR for making a pattern. They're flexible like cloth but can cut like paper. I made patterns for the aft end of the boat for each side.
As the weather cloths got more tricky because of the winches and life sling attachment and Jim decided to get a bimini fitted, I took a break and started the grill cover for our new Magma party sized grill.
It consists if a circle whose diameter I measured along the top of the grill to its widest part. Then I cut a rectangle of cloth to make a cylinder along the edge if the circle whose length was the perimeter of the widest part of the grill and its width is how much I wanted to cover the underside. I also made a seam allowance of 1″ at the joining seams plus 2″ for the edge seam at the bottom. I stitched the circle to the long side of the rectangle to make a cylinder.
I double stitched the seams.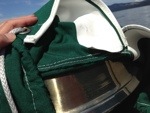 Then sewed an edge on the ends and reinforced it with polyester.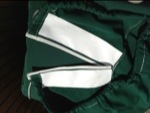 I inserted some size 2 spur grommets at the two edges for a tie to be inserted from the front of the cover then encased a tie into the seam along the bottom edge of the cover.
Spur grommets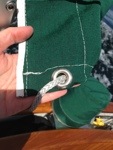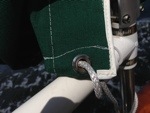 And Voila! A new Grill cover!