We planned a 2 week vacation in the San Juan And Gulf Islands in the first 2 weeks of July 2013 with my sister. Unfortunately, due to family circumstances we had to trim it to 1 week.
We left Monday July 8th after last minute packing of the boat as Jim had climbed to Camp Muir at Mt Rainier on the Sunday. We left at midday and had a leisurely motor from Seattle to Port Townsend. The weather was sunny and clear with a mild breeze.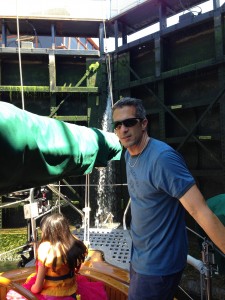 At the locks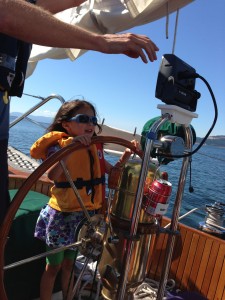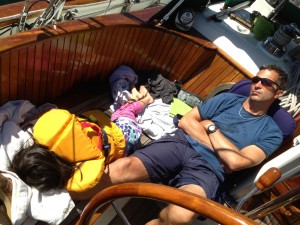 A leisurely motor up the sound
Just past point no Point the wind picked up and we put up the sails. Had a north westerly wind so the boat heeled over a fair bit and we had to re-secure our stuff down below. We arrived at Port Townsend at sunset which was around 9pm and put the anchor down. Everyone was tired and we went to sleep after dinner.
Day 2 July 9th.
The next morning, Jim was itching to get going so he up anchored while I made oats for breakfast. We had it and as we rounded out of Hudson Point. Oh boy, was that a bad idea. We had wind vs tide and it was one of my choppiest rides in the Straits of Juan de Fuca. Jacintha and Sharon both lost their breakfast. I dosed them up with drugs then they went up into the cockpit to recover. Jacintha held onto the mizzen mast for dear life despite her life jacket and harness. The bumpiness settled down half way across the Straits but the damage was done. Sharon felt sick everytime we hit a wave.
It was a long ride to Roche Harbor and we were all happy to enter the calm harbor and drop our anchor. Sharon was happy to hit dry land and the shops when we dinghied to the resort. We bought Jacintha her first fishing rod and tackle and she was very pleased and wanted to go fishing right away.
The next morning Jim and Sharon took the dinghy to the resort while Jacintha and I stayed on board. As we were doing errands I noticed smoke coming from the marina which started getting thicker and thicker. I called Jim to find out what was happening over there. One of the million dollar display boats caught fire and the harbor workers had to move other boats out of the way and try to put out the fire. They closed the marina and Jim and Sharon were stuck on shore. Jacintha and I had a safe view from the boat.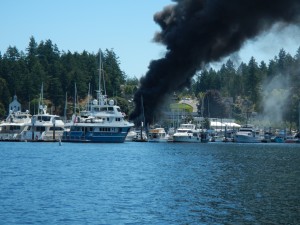 To keep Jacintha from fretting and occupied we pulled out her fishing rod and she was happy to "fish". I didn't actually know how to load the hook or put on the weight but since she didn't know she was very keen to catch a fish.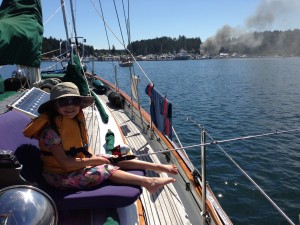 Speaking to Jim and Sharon, they had tied the dinghy in a location they couldn't get to because of the boat fire. The hotel and shops were closed due to the smoke and they were hungry as it was lunch time by then. Also, Jim had been taking photos so his phone charge was running low. Meanwhile Jacintha and I had a nice lunch and a relaxing sunny day. Sharon and Jim finally got a ride from the marina staff to our boat as the dinghy was in an inaccessible area. They told us to come into the marina and they would give us moorage for the night. We got a spot right across the water from the boat which had burnt down to the waterline. The whole area smelt of char.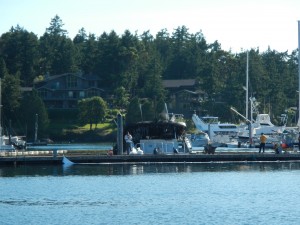 The coastguard helicopter buzzed overhead a couple of times before they landed and checked out the wreck.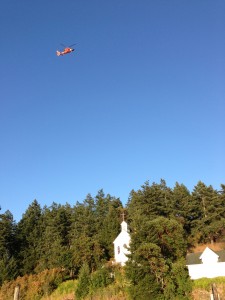 And we had a beautiful sunset that night.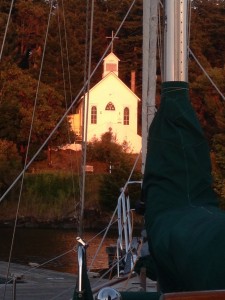 The next day, the salvage cranes came to haul out the boat. We stayed 3 nights as our dinghy was still inaccessible.
Sharon was very much happier on land so I bought her a ticket on the Friday Harbor Clipper to Seattle home as she did not want to go back through the Straits of Juan de Fuca.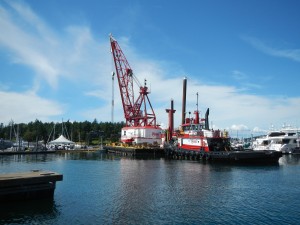 Our next destination was a short trip to Jones Island.We enjoy walking around the island and exploring. We usually anchor in the north end but seeing as it was filled with boats we anchored in the south end this time. As it was low tide Jim secured the dinghy high up to a tree. I think he was wanting to practice his climbing skills. It was fun exploring the beach along the south end and hiking along the west side of the island. There was a wedding there that day so there were lots of people were around.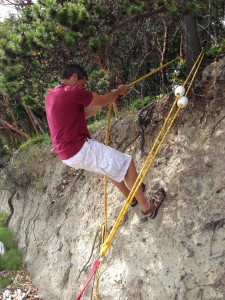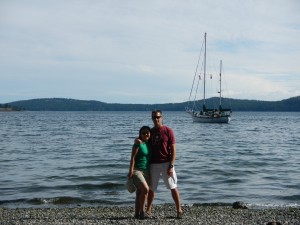 As this was a short trip, our next port of call was Kingston where we anchored for the night. We had a mandatory stop at Mora's ice cream which is our tradition. There is another Hans Christian 43T moored in the first slip at Kingston marina. We met the owners 5-6 years back and everytime we go there we stop to look out for them. Unfortunately, their boat was in a sad state of neglect with moss and leaves collecting. I do hope nothing amis has gone wrong and it's just early in the season.
We love our Keens sandals!