Village of Nasea
After leaving Savusavu, we headed 45 miles east along Vanua Levu and dropped anchor in Dakuniba Bay. We hopped in SV Javelot's dinghy, and the 8 of us motored around to the next bay with 2 bundles of Waka (dried kava root). We didn't know it at the time, but we mistakenly bypassed the main village of Dakuniba, and went ashore at the smaller village of Nasea, which didn't show up on our charts. As we approached the shore at sunset, the villagers saw us and began gathering along the beach to greet us. The Turaga ni Koro (village spokesman) welcomed us to the village and led us into a house, which also served as the village hall with a room big enough to fit the whole tribe plus the 8 of us. There was no furniture or chairs, and no electricity or running water, and we all sat cross-legged on a woven mat on the floor to begin the sevusevu.
Sevusevu is an ancient ritual of offering Waka to seek acceptance into a Fijian village (it's considered very rude to show up at a village without the offering). We were also prepared with the appropriate dress—men wear Sulus (a long wrap similar to a sarong), and women are expected to dress conservatively and have their shoulders covered. The ceremony began with a chant by the Turaga ni Koro, followed by the handing over of the Waka to the village chief. The chief coboed 3 times, which in Fijian culture means, "I am about to speak, thank you for listening while I do". He then began reciting the traditional monologue and ended with a chant and 3 more cobos that indicate they have completed their introduction. Then, in English, he welcomed us to the village and told us that while we were there, "our home is your home and you are always welcome to return".
Next it was time to make kava! The Waka we brought needed crushed and they had an iron pail and a heavy rod for doing so. We took turns outside in the yard beating the kava root to a course powder, then returned to the room where they placed the crushed kava into a fine mesh bag and stirred it around the large wooden bowl full of water. Over the next 2 hours, we sat around the bowl drinking kava, smoking hand-rolled tobacco, and talking. Even the kids (Jacintha, Ivan, Declan, and Finn) tried a sip of kava. When handed a cup of kava, you clap once, then drink it down, hand the cup back to the server, and clap 3 times (the clap must be a loud, manly palm clap, and it's embarrassing when it sounds soft!). Some of the women were in the back of the house preparing wild boar over a wood fire for us to eat. They hunted and killed the wild boar earlier that day and had already ate, but insisted that the 8 of us eat. By then it was dark and many of the village children had fallen asleep on the floor. During the conversation, we learned that we were only the 2nd yacht to visit the village in about 7 years! Several times they mentioned how excited and happy they were when they saw our dinghy approaching their beach.
It was a great time to be there since all the kids were on school holiday and normally they would be on another island for school. Our plans were to depart the following day to move further east, but it was too hard to decline their invitation to return and spend a whole day with them. So we dinghy'd back in the dark to the anchorage with a promise to return.
We spent the following day back in the village where the kids enjoyed climbing trees, playing with their pet piglet, and just hanging our with their new friends. They fed us smoked wild boar, breadfruit, papayas, mandarins, and coconuts. They showed us around the small village of only 3 or 4 houses, and explained how they hike up in the hills to hunt the boar with dogs. I told them how abundant deer are back in Pennsylvania and how we hunt them with rifles and bow & arrows, but only during a certain time of year. Although they go to the main town from time to time to buy things, they mostly depend on trading. Their culture is so opposite from ours back in the states—where our way of life is to "work hard and save", theirs is a laid-back "if it doesn't get done today, it'll get done tomorrow" and "we have food today, so we eat it all". A 17-year-old boy showed me around the village and said how happy he was to live there because the beach was so nice and there were lots of fish to catch and wild boar to hunt. He said when he is around 23-25 years old, he will go to another village to "get a girl to marry", and bring her back to Nasea. He's never been away from the island where he lives or the neighboring island where he goes to school, but said he wants to go to Los Angeles some day (I told him Seattle is better!). They invited us to go lobster hunting with them out on the reef after dark but we had a long ride back to the anchorage so had to decline. When it was time to go, everyone gathered on the steps for a group picture. Then they loaded our 2 dinghies with a dozen coconuts and walked them out over the reef do a deeper part of the bay since it was low tide. We left them with 6 of Jacintha's dresses, some canned food, toothpaste and toothbrushes. We also promised to put the word out to other cruisers headed their way to bring some fiberglass resin so they could repair the hole in their only fishing boat. Meeting them was an amazing and memorable experience and I hope some day to return.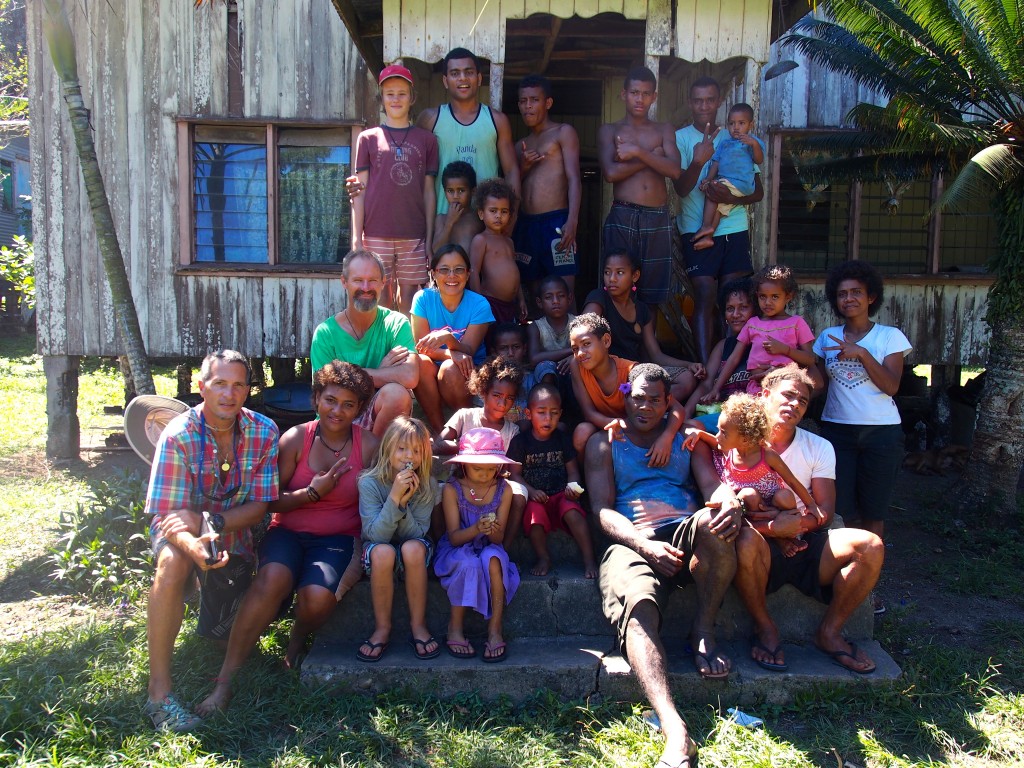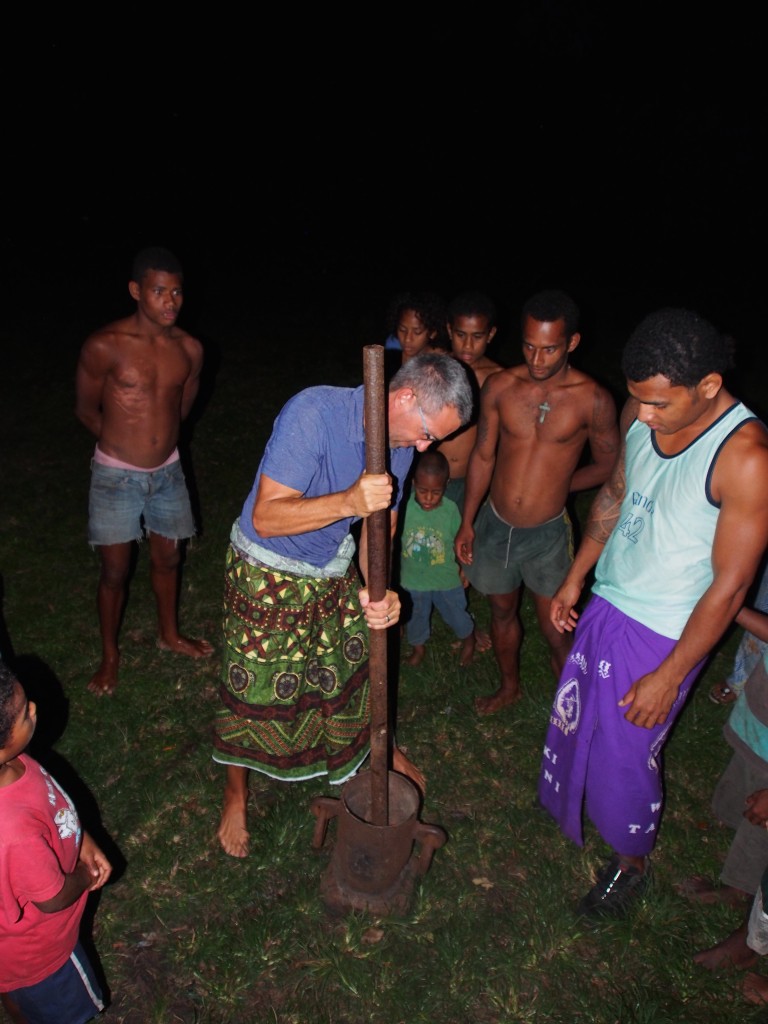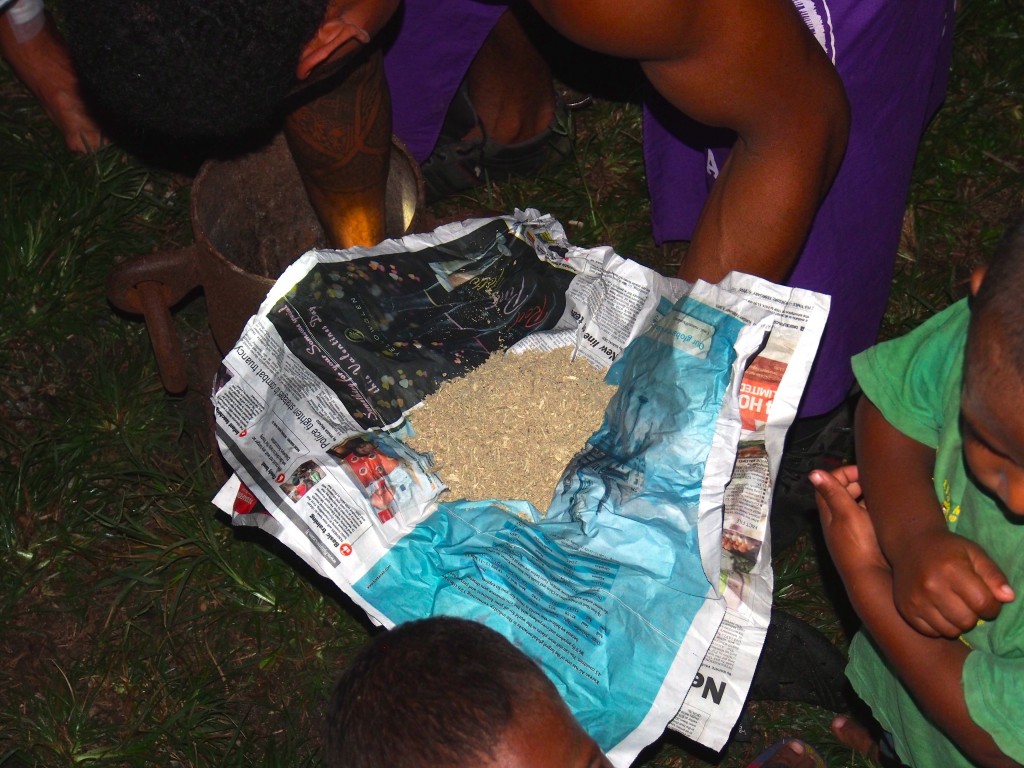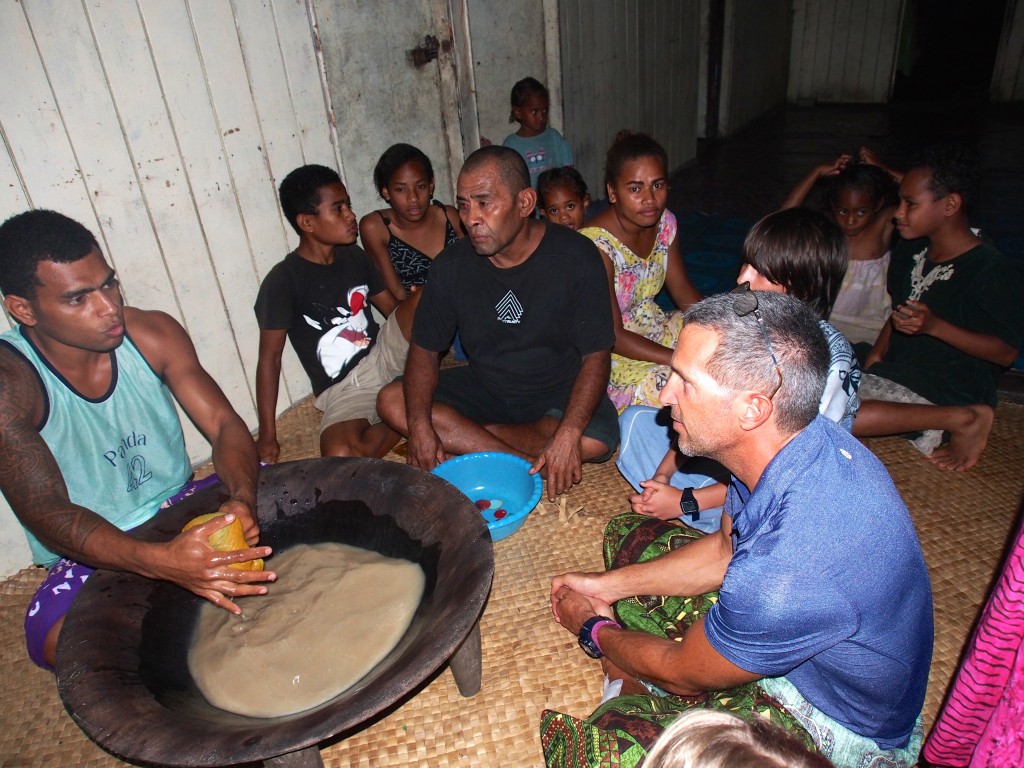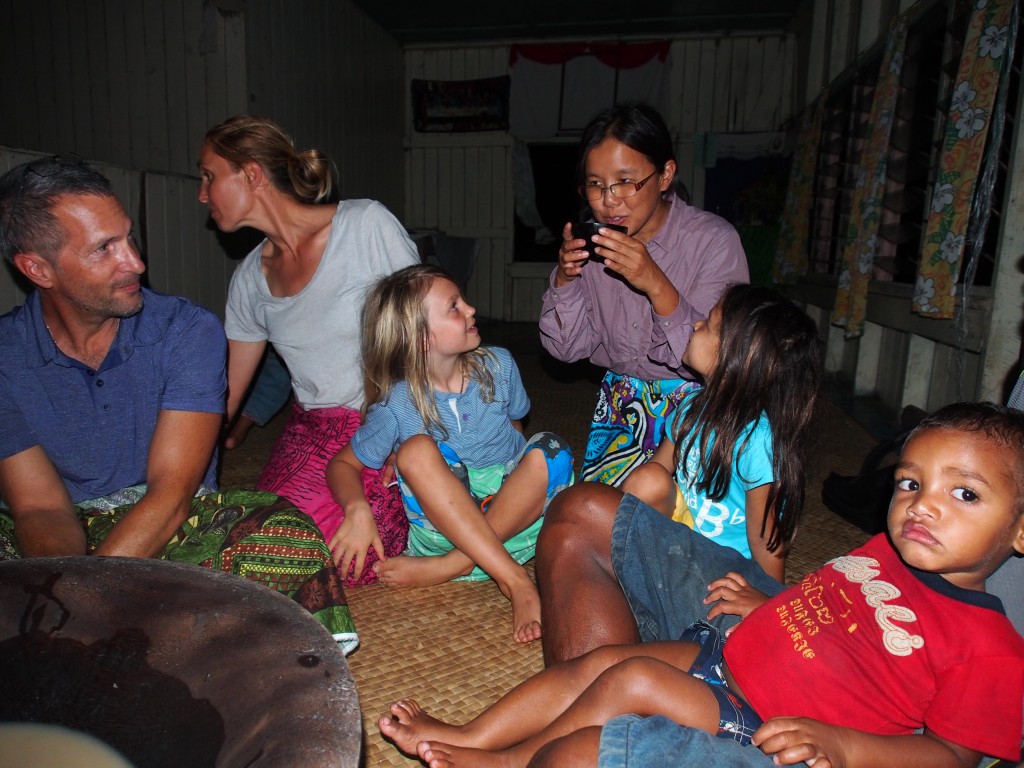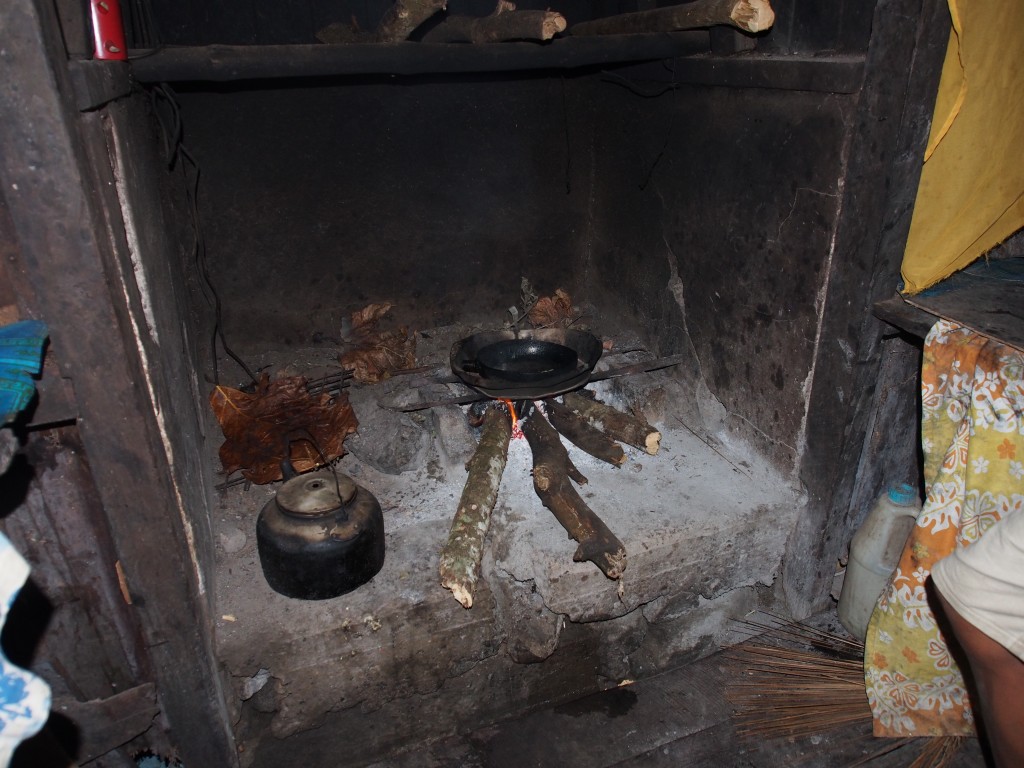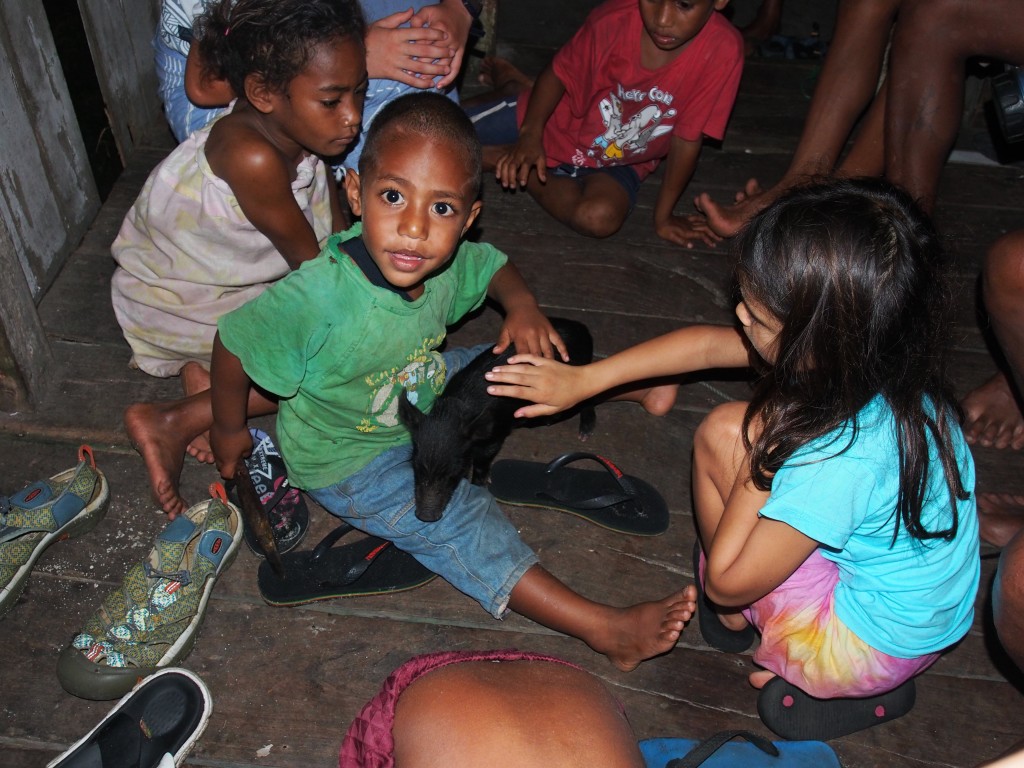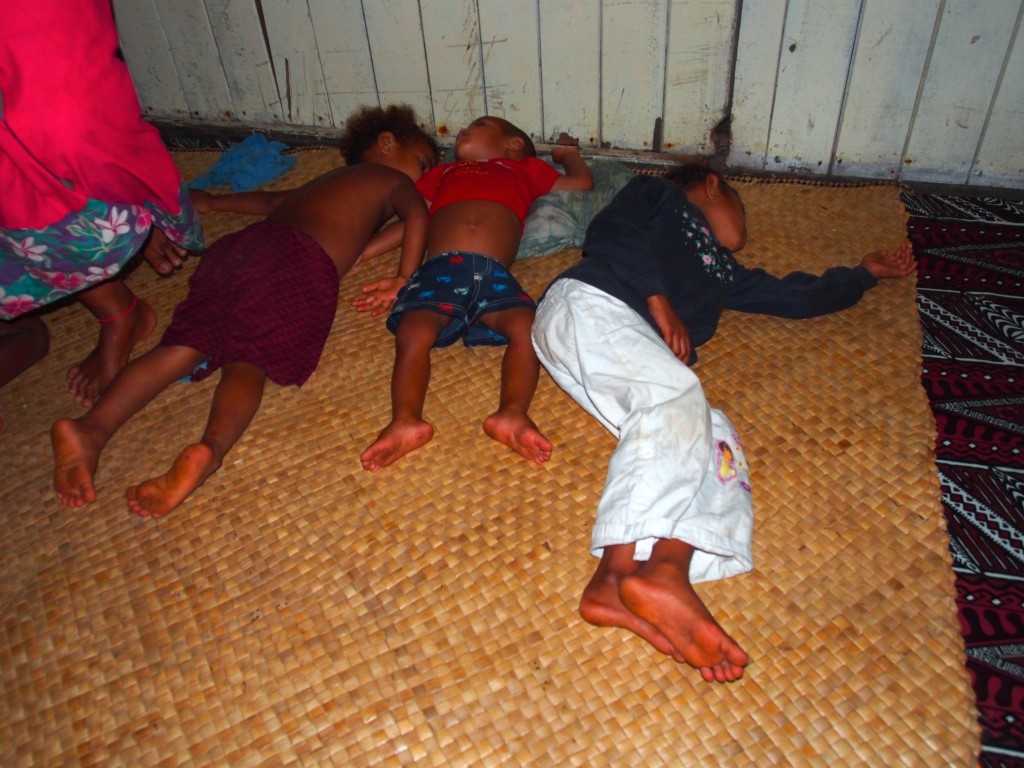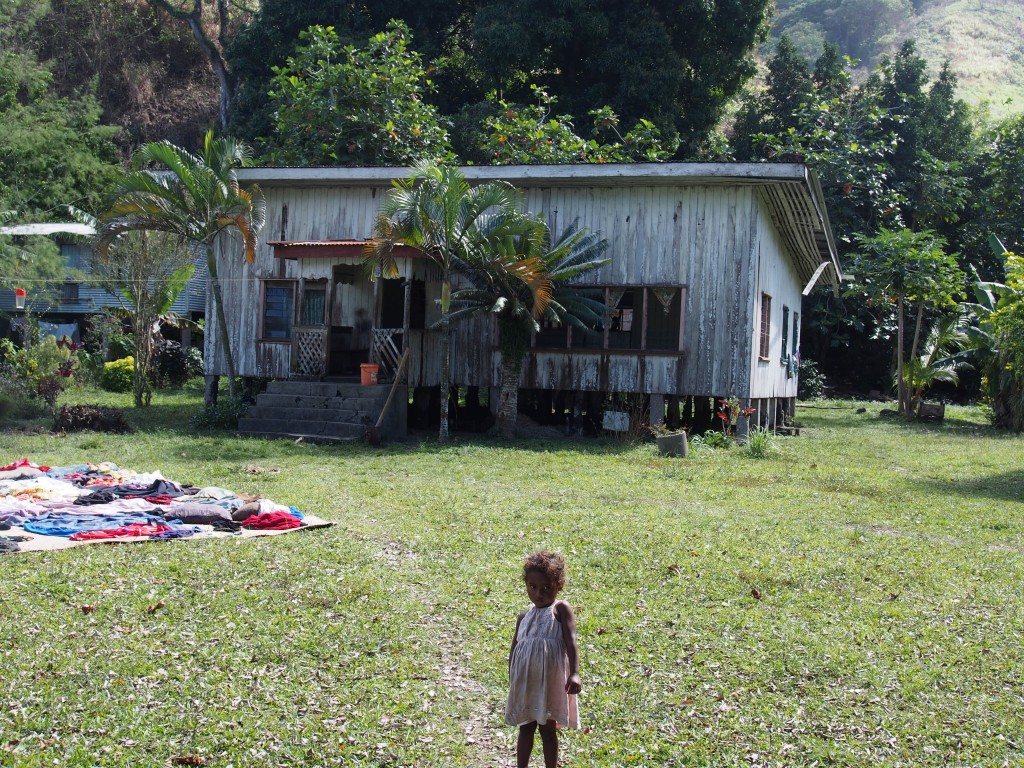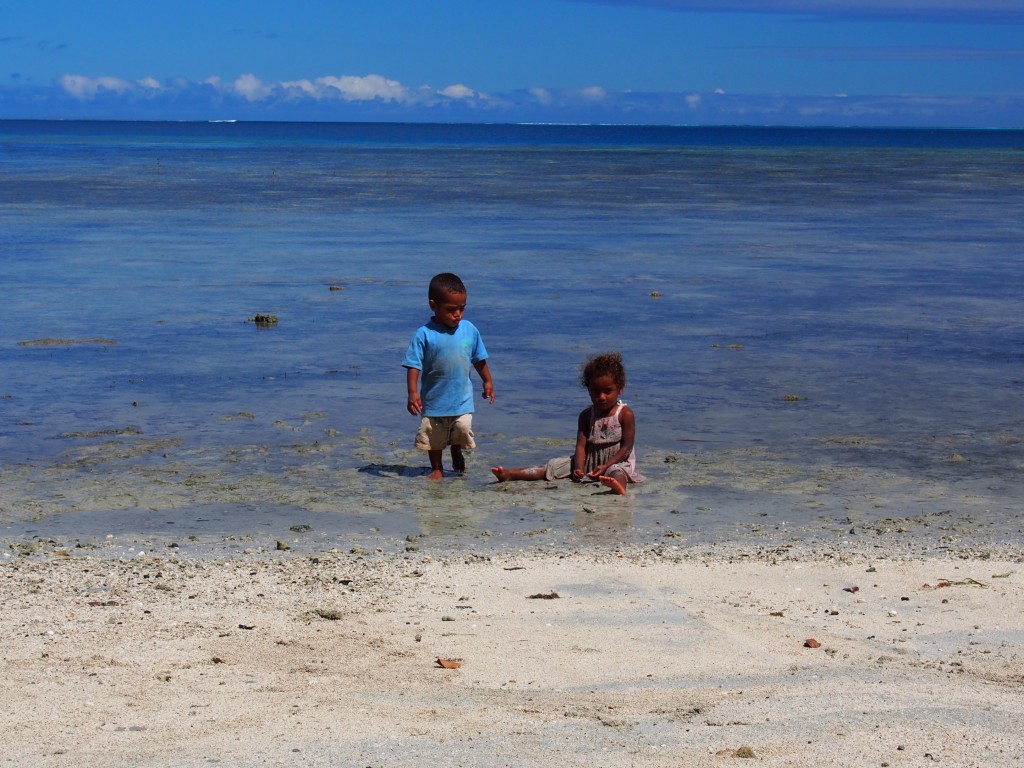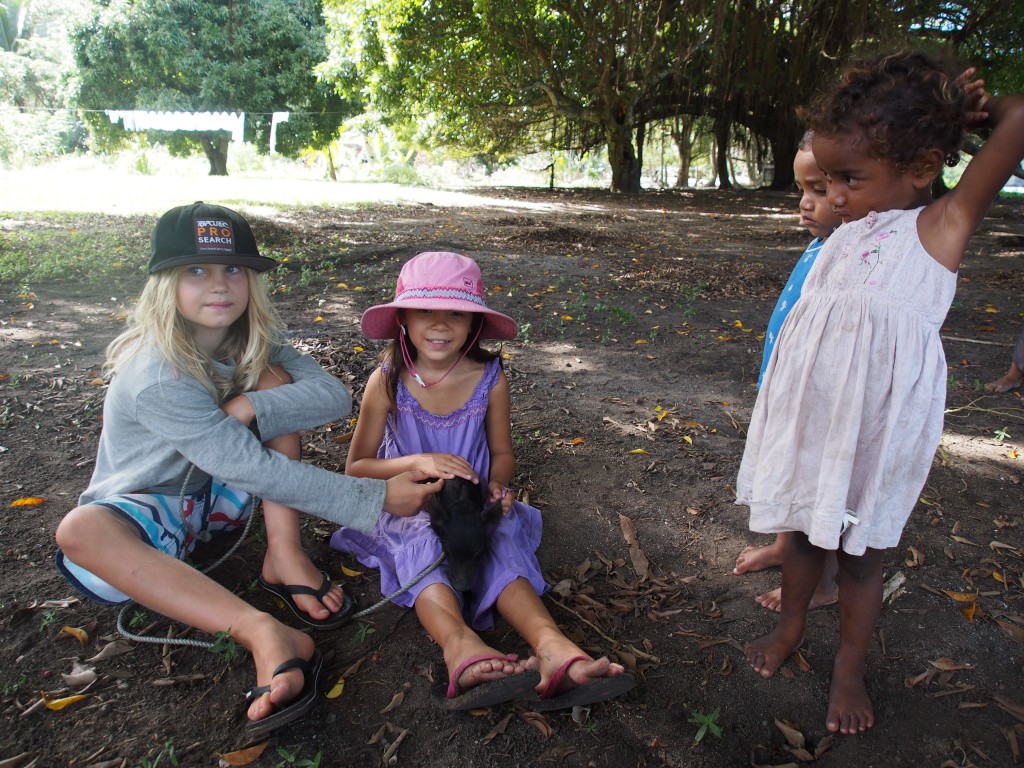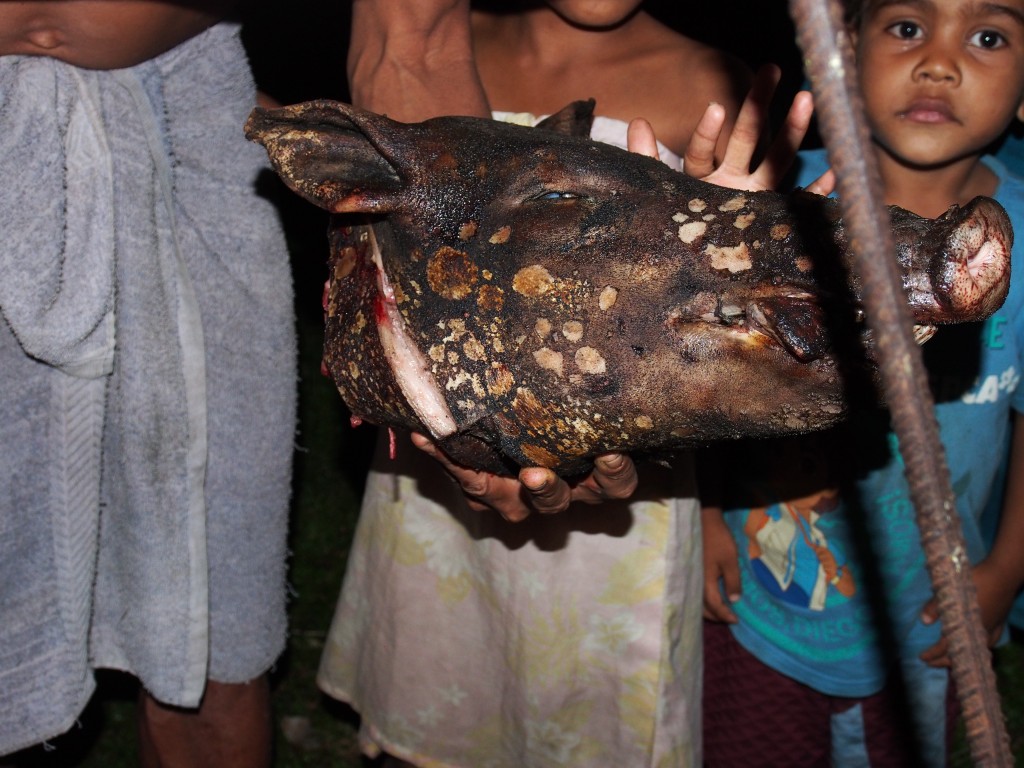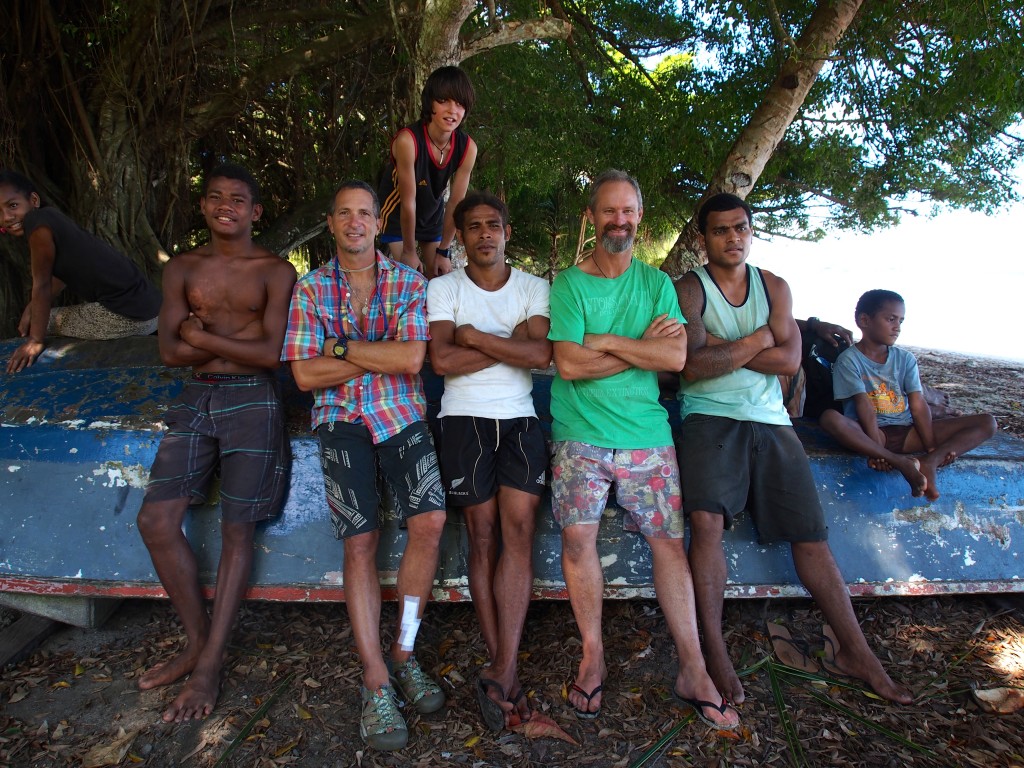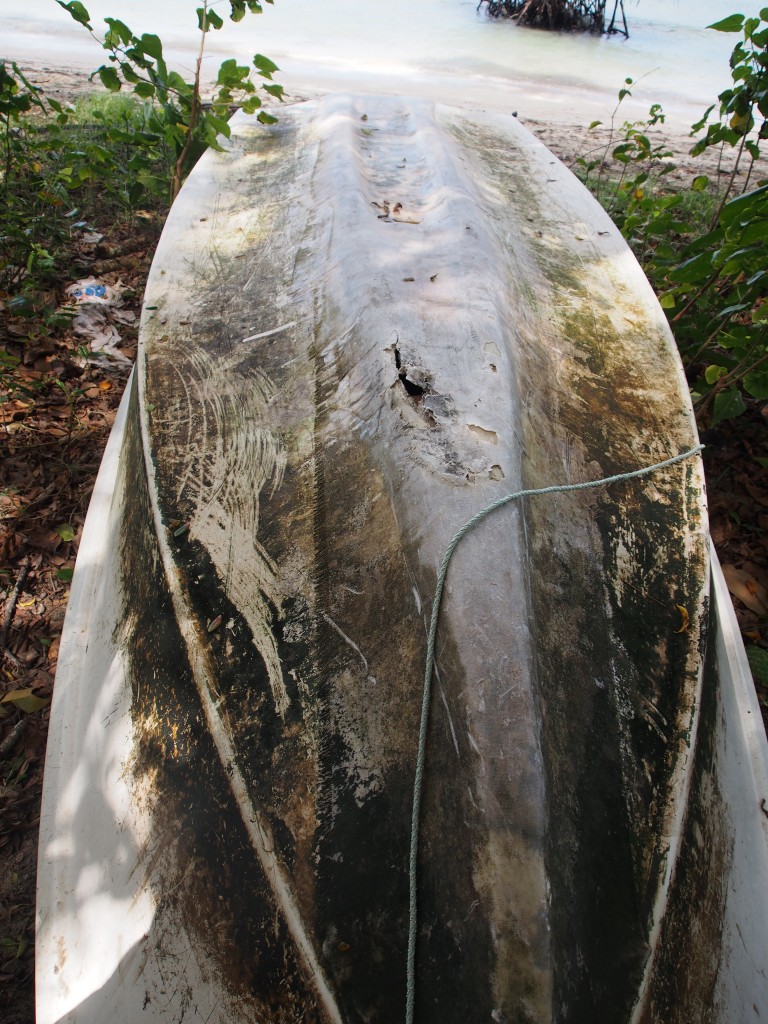 Viani Bay and Jack
Viani Bay is a few hours motoring from Dakuniba  Bay. We took the inside route, which winds its way inside the reef in more protected waters, but has a few very narrow passes. The narrowest pass showed us navigating into the green (indicating land) on our chart plotter, but we knew it was passable from other cruising reports and had known good waypoints to guide us. A good bow watch was still necessary to miss the shallow bommies (rocks) along the way. We learned of a Fijian man named Jack (and of his story-telling) from Curly's cruising seminar that we went to back in Savusavu. Jack has lived along the bay for over 40 years and makes money by guiding cruisers on snorkeling or diving tours. He doesn't actually get in the water, but stays on the anchored boat or in the case of drift snorkeling, drives the boat. So we arranged for him to take us snorkeling the following day aboard SV Javelot (a catamaran). We went to the 3 sites recommended by Jack and listened to his interesting stories along the way. Jack knows the area well and needs no chart plotter, he just points and says steer that way! The first site we anchored at was called the Cabbage Patch where we enjoyed the "cabbage" coral and many reef fish. The next site was along a maze of shallow reefs and Jack paddled along in a dinghy to show us the way. We saw a reef shark, lots of healthy coral, and plenty of small reef fish. The third site was a drift snorkel where Jack dropped us off at one location and guided the catamaran to the pickup spot as we drifted effortlessly along the reef. We crossed over lots of deep canyons and drifted over some thermal currents that were much warmer than the surrounding water. We saw some interesting schools of small fish swimming along with their mouths wide open, a sea turtle, and lots of healthy coral. Unlike some places in Bora Bora where they feed the fish in certain areas and take tourists to snorkel there, this was completely natural, non-touristy snorkeling.
Returning to the anchorage, we ended the day with a potluck aboard SV Javelot. The kids watched movies while the adults played 500, a very addicting card game!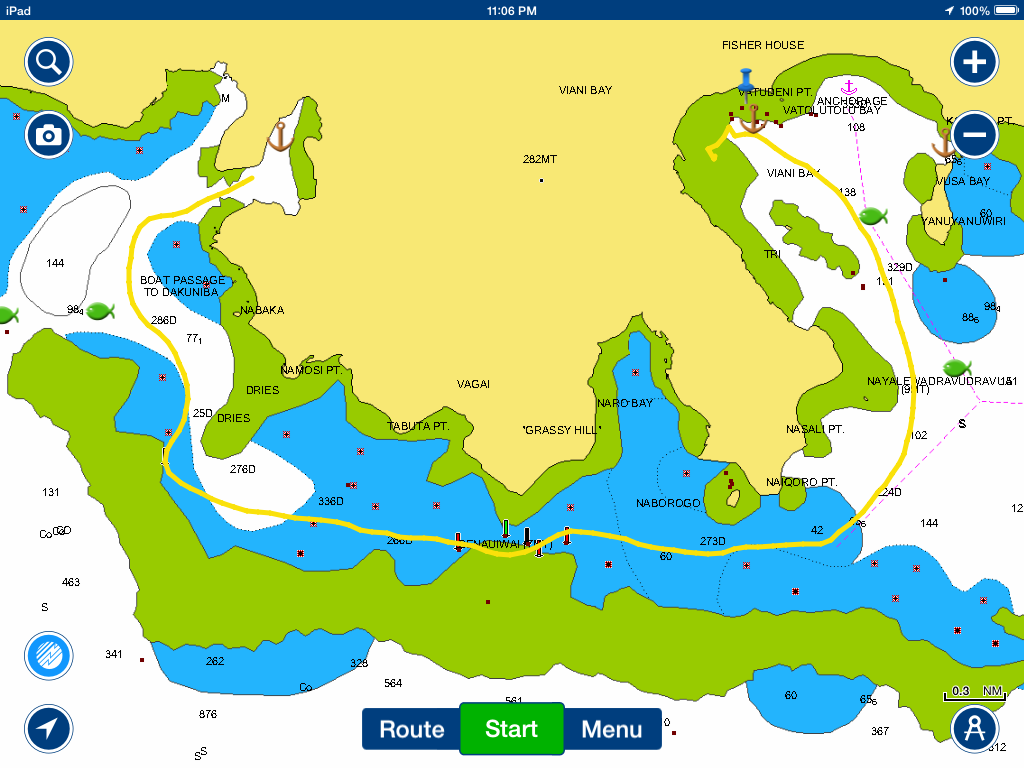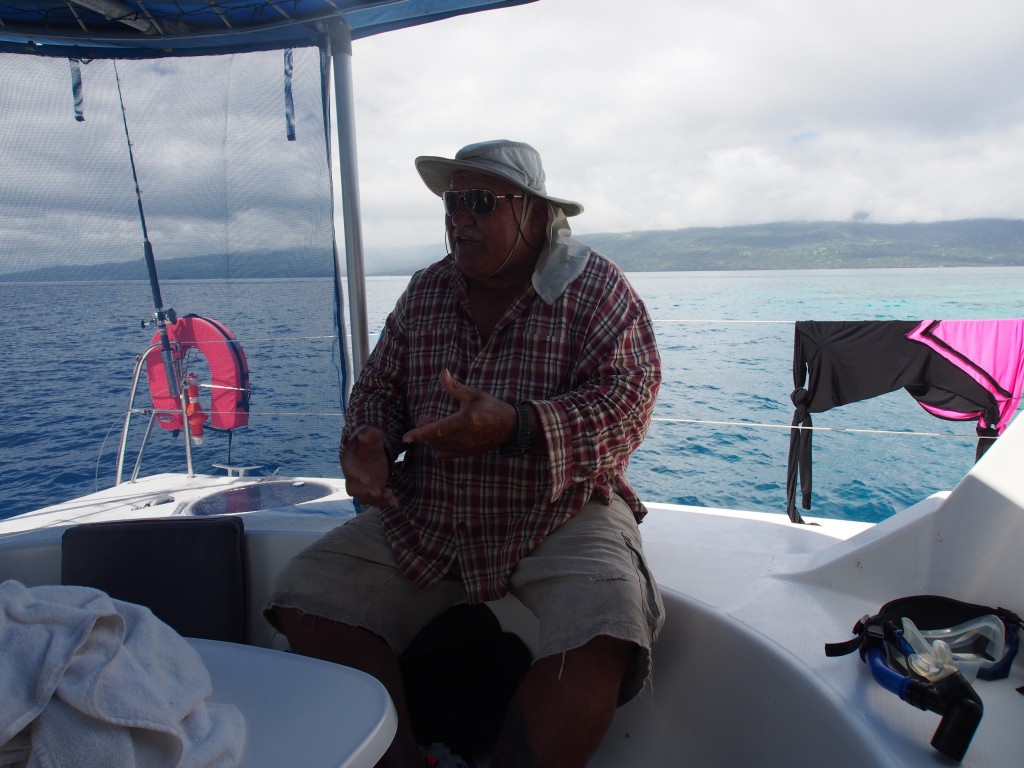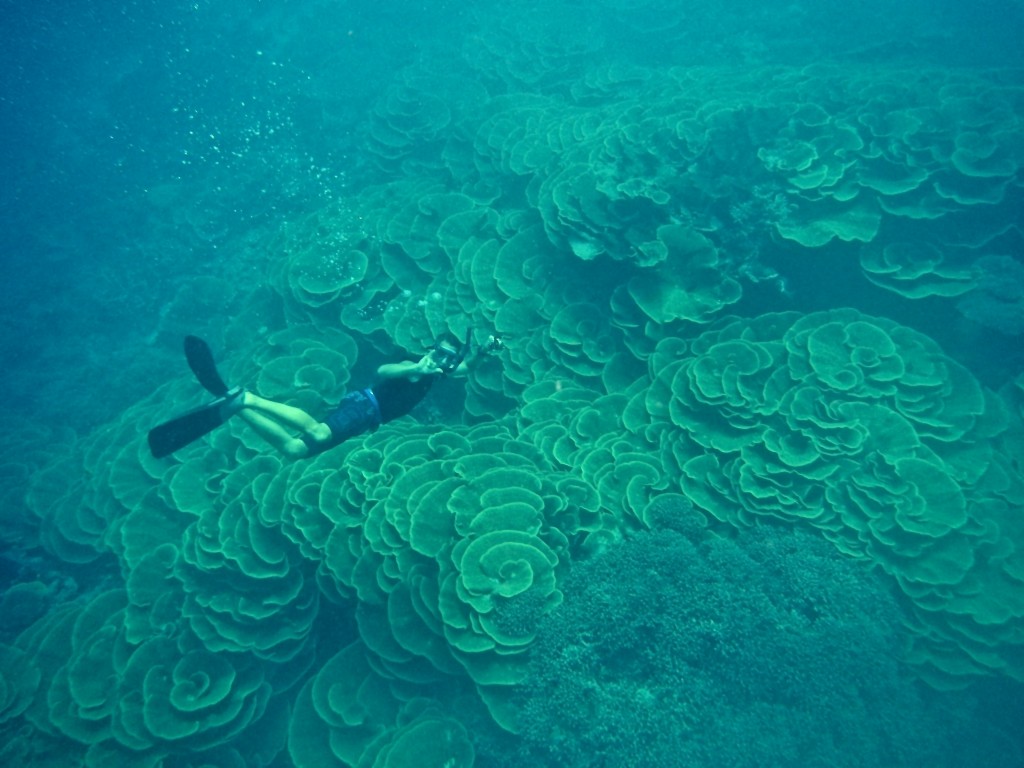 Snorkeling around the "Cabbage Patch"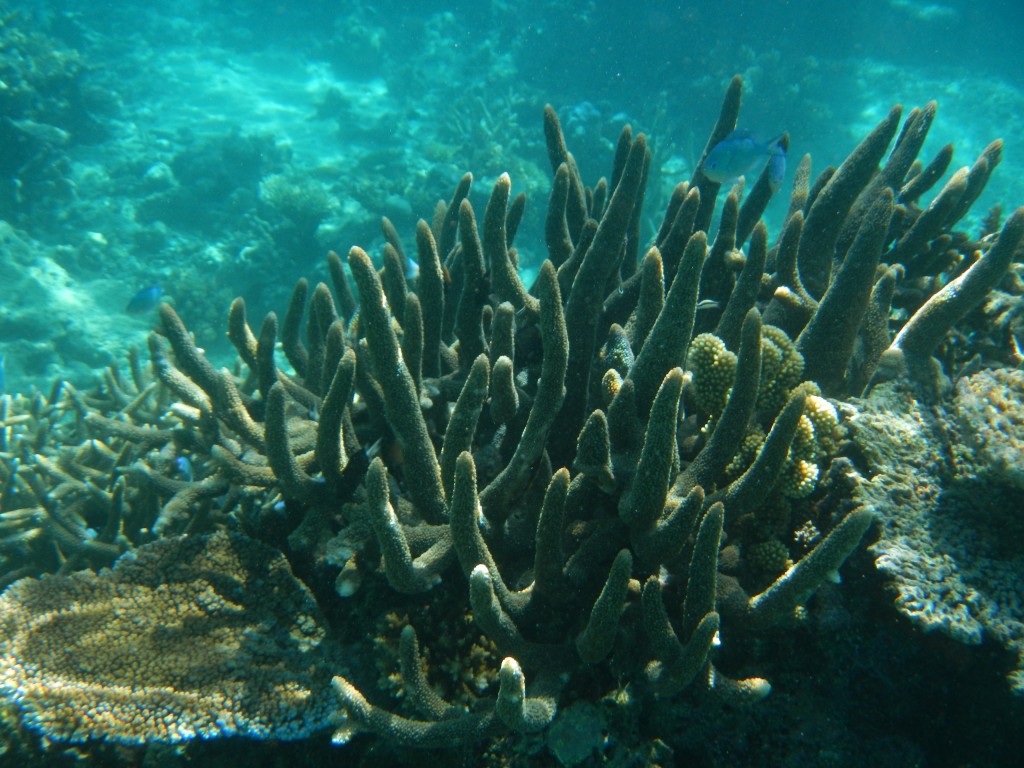 Lots of healthy coral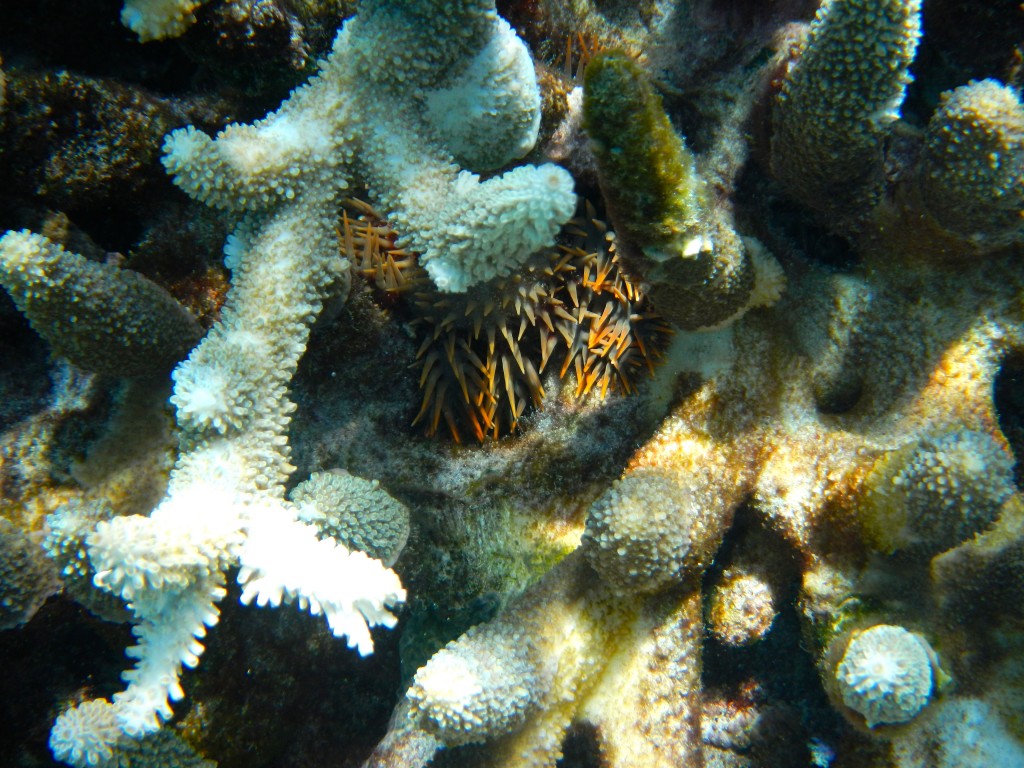 Crown of Thorns–they bleach and kill the coral
Taveuni Island
The following day, we arranged for Jack to come with us to Taveuni Island, about 7 miles away. Called the "garden island", Taveuni gets more rain than other Fijian islands and has lush vegetation. It's also home to a flower that grows only in the mountains there.  For this day-long trip, Jack charged a small fee to show us where to anchor, arranged taxi service to the Tavoro waterfalls, and looked after the boat while we visited the village and falls on the north end of the island. We again took Javelot and left Apropos behind anchored in Viani Bay. Another cruising couple who we met in French Polynesia (Steve and Ange from SV Pannikin) joined us. Along the way we caught a tuna while trolling a rapala lure.
The long taxi ride to the north end of the island was over mostly unpaved roads. We stopped along the way to pick up some fresh coconuts, squash, eggplant, and tomatoes. After a 45 minute drive, we reached the visitor center and the trailhead to Tavoro falls. The first falls, only a half mile away, was the largest of the three, both in height and water flow. The hike to the next falls took about an hour and included a  small river-crossing. Since we had to be back at the trailhead by a certain time, we didn't have enough time for the third falls, so we hiked back down to the large fall for some swimming. Of all the waterfalls we visited in Mexico and French Polynesia, these falls had the highest volume of water flowing. Trying to swim to the base of the falls was exhausting because of the large current generated. We were barely able to get close enough to touch the outer spray before swimming back to shallow water away from the falls.
We took the bumpy taxi ride back to the anchorage, crossed the channel to return to Viani Bay, and once again ended the day with a dinner (fresh tuna) aboard Javelot, followed by another game of 500. We said our goodbyes to Rob and Rachel from Javelot since they planned to cruise further east and our plan was to go west the following day. Jacintha will miss her friend Ivan so mom and dad will have to be her new Uno competitors.