We're now in Sydney, Australia visiting Karen's family, relatives, and friends.  After 10 days we'll fly back to Seattle where Jacintha will start 3rd grade at Villa Academy, Karen will return to Children's Hospital, and I will start looking for a job.
Here's some thoughts from each of us on the overall trip:
Jacintha:
I loved playing with my friends Amia and Alina from Family Circus, Mathias and Luke from Bob The Cat, Ivan from Javelot, and Collie.  Collie was a dog, Steven was a duckling, and I met a piglet who loved to eat coconuts in Fiji. In Mexico there was a place called Paradise Village. It had two pools and three water slides. Then we did the crossing and went to French Polynesia. In Tonga we swam with whales. In Fiji we played with a nice swing. It was my best year!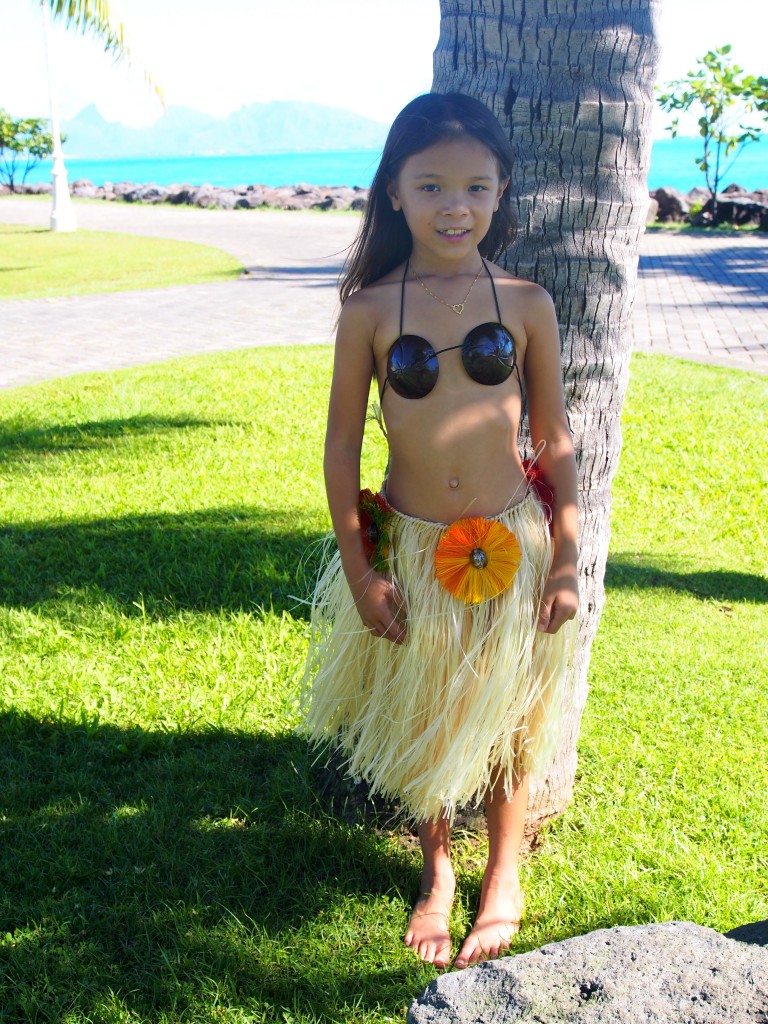 Jim:
I have so many great memories of our trip down the west coast of the US, up the Sea of Cortez and down the west coast of Mexico, and across the South Pacific. Each area was a new experience with different cultures, languages, food, and scenery.  It's hard to pick a favorite place, but I could think of a favorite thing about each place: sailing under the Golden Gate bridge, cruising the California coast with my dad, swimming with whale sharks near La Paz, eating at the street loncherias in Mazatlan, hanging out with friends in Zihuatanejo, the music scene in La Cruz, the 23-day crossing and making landfall in the Marquesas, scuba diving in Rangiroa, the markets in Papeete, playing ukulele in Huahini, seeing the heiva festival in Bora Bora, buying a Tahitian uke in Rarotonga, standing on Beveridge Reef, exploring the caves and chasms of Niue, swimming with humpback whales in Tonga, and spending time in small villages in Fiji. The beaches and natural beauty, the friendships we made with other cruisers along the way, and the friendliness and generosity of natives will be remembered long after our trip. I'm thankful that Apropos protected us during the 10,000 miles of ocean sailing with only minor breakages. Seeing Jacintha grow and learn on our floating home for a year, even during some difficult passages, was truly amazing. I'm grateful we got to do this at this stage of our lives and hope to do it again sometime in the future!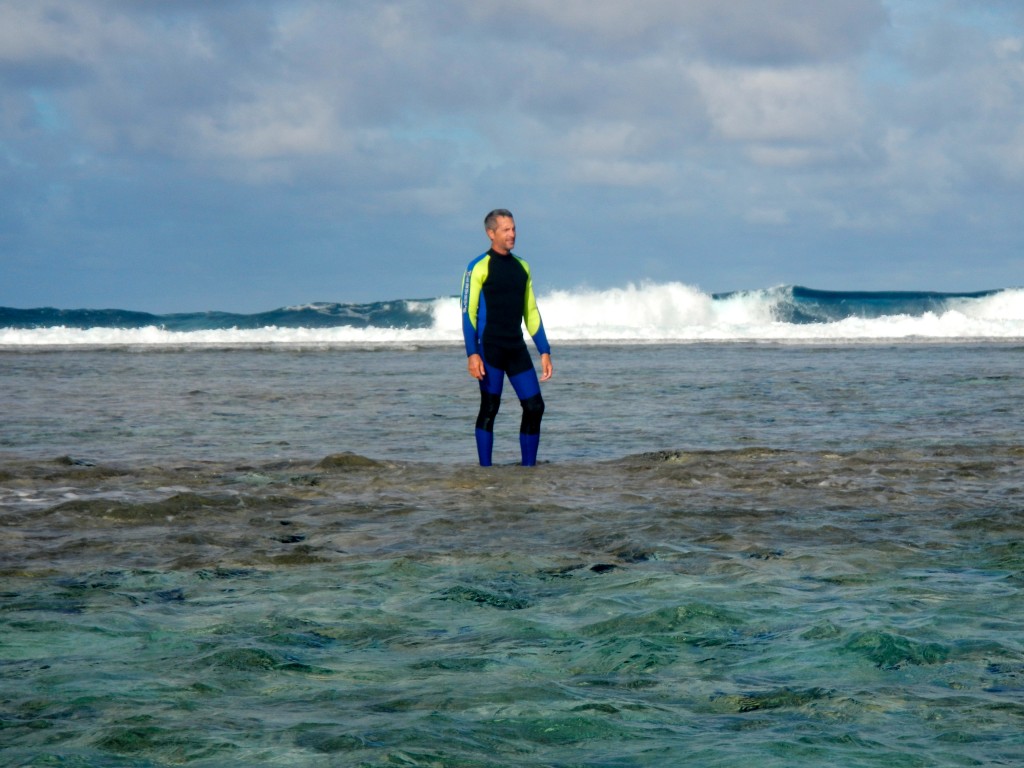 Taken at Beveridge Reef
Karen:  (see next blog post)

Trip Stats:
Distance Traveled:  9,925 nautical miles
Length of Trip:  13 months
Countries Visited:  6 (Mexico, French Polynesia, Cook Islands, Niue, Tonga, Fiji)
Islands Visited: 32
Diesel Fuel Consumed:  612 gallons
Engine Hours:  766 (0.8 GPH)
Longest Passage:  2280 nautical miles in 23 days (Puerto Vallarta, MX to Fatu Hiva, Marquesas)
Quantity of Water Desalinated: 1,958 gallons
Fish Caught: about 12
Groundings:  1 (sand bottom near La Paz, Mexico)
Equipment Failures: Garmin chartplotter (died), wind vane control lines (chafe), dinghy oar (smashed while docked), Racor diesel filter bowl (cracked), VHF cockpit mic (corrosion), Galley stove ignitor (failed),BBQ grill gas regulator (failed), Diesel tank fill hoses (had to replace in San Francisco), wind vane wheel drum locking mechanism (broken weld), wind van control line blocks (broken weld)
What We Missed:
Some Favorite Foods–Sushi, dumplings, salmon
Good coffee–I drank mostly instant coffee on the boat.
Hot showers–The solar shower bags worked ok but sometimes weren't warm enough and hard to use on a rolling boat, most marina showers were cold and dirty.
Conveniences–washer/dryer, high-speed internet, Amazon.com, Fisheries Supply,
What We Would Do Differently:
Pack less clothing–There were large zip-locked bags of clothing that never even got opened.
Wind Generator–Our 500W of solar power wasn't enough to keep our batteries happy. A wind generator would have made a great complement to solar since many of our anchorages in the south pacific were breezy.
What Worked Well:
Fleming Self-Steering Wind Vane–Aside from a few minor issues, our wind vane (Ian) was worth his weight in gold!
Spectra Water Maker–Made the trip much more comfortable by not having to lug water in jerry jugs. It just worked with no problems!
Dickinson Galley Stove & Oven–Used daily for boiling water for coffee & tea, made many pizzas, crepes, stews, noodles, etc. The electronic ignitor failed, but a lighter worked well.
Forespar Whisker Pole–An addition we made in San Diego, the whisker pole was invaluable for downwind sailing. A little bit difficult to set up and take down (takes 2 people), once up it allowed us to sail wing on wing with either the main or mizzen.
Lock-N-Lock Containers–Great for organizing food in the refrigerator,  dry food storage, small electronics, etc.
Glacier Bay Refrigeration–I was worried about the 10-year old compressor failing, but it survived. Even though it was our biggest power draw, it kept our food and beer cold.
What Didn't Work Well:
Freezer–The boat freezer cycled way too much and drew too much power from the batteries. We ended up shutting it down in Mexico and replaced it with a portable Dometic freezer.
House Batteries–Our 660AHr AGM house batteries were already 6 years old when we left on the trip.  During long distance cruising, the high energy demands from refrigeration, laptops, and navigation electronics are hard on batteries. Apropos is a 120V boat, so the last time we plugged into shore power was in Mexico since the South Pacific uses 240V.  Also marina docks are few and far between in the South Pacific. For 6 months we relied on solar panels, the engine alternator, and the Honda generator to charge the batteries, so they never got fully charged. Batteries go through 3 phases of charge–bulk, accept, float.  The bulk and accept stages get the batteries to 80% charge, then the float stage takes many hours for the batteries to reach 100%. Therefore, it's not economical to run the engine or generator for so many hours to get the batteries back up to 100%.  When the boat was in the pit at Vuda Marina in Fiji, I borrowed a 240V to 120V transformer and charged the batteries overnight to 100%. I can't say for sure whether the batteries are the problem or if it's the way they were used and charged.