Leaving your boat in the South Pacific during Cyclone season (November through April) can be a bit nerve-wracking! As Apropos sits in a cyclone pit at Vuda Point marina on Viti Levu in Fiji, a cyclone is moving towards it. As I write this, Cyclone Ula is approaching the Vava'u group in northern Tonga, a place where we spent 4 weeks and where some of our friends have left their boats.
Some cruisers leave their boat in the water with multiple anchors and lots of chain. There are harbors in Tonga and Fiji that have huge concrete blocks on the bottom to tie to. However, surge and stress on the tackle gear are still major concerns. The next level of protection is to haul the boat out and place it in a cyclone pit.  Vuda Point marina has about 40 of these pits and they sell out every year. We reserved ours in July when there were only 3 remaining.
Regardless of where you leave your boat during the cyclone season, the best thing you can do is to remove as much as possible from above deck. We removed the solar panels, dodger, bimini, sails, BBQ, and everything else that was loose. We also hired a caretaker for Apropos who checks on the boat about once a week and sends me a email report with things like battery voltage and overall condition. Since he works at the marina and is there every day, he opens and closes the ports depending on the weather to keep the interior well ventilated. He is my "eyes" and emailed photos of the hull painting and, in the event of a cyclone, will show me how Apropos fared.
As shown below, Cyclone Ula is predicted to veer more south before reaching longitude 180. The red line is the predicted path and the outer black line indicates the range of tracks due to the uncertainty in modeling. As it looks now, the path would spare the western side of Viti Levu from the eye and strongest winds. This map is updated every 6 hours so I'll be tracking Cyclone Ula over the next coupe of days.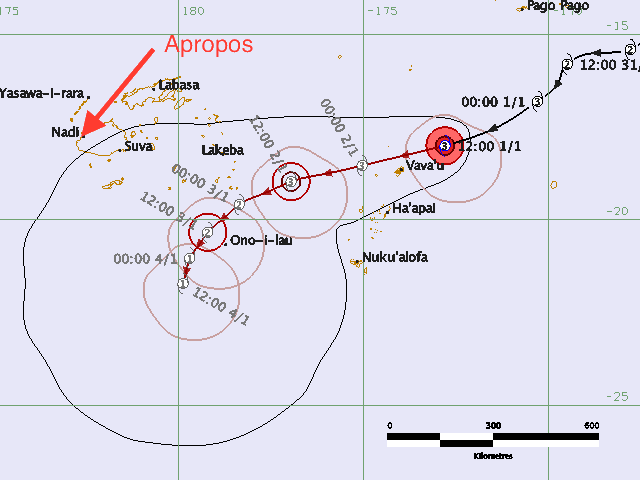 Update on Jan. 4, 2016–Cyclone Ula continued on its S-SW course as predicted, then decided to change course and head W-NW. Still a Cat3 system, it's predicted to weaken over the next 2 days to Cat1. Nadi reporting heavy rain today, not sure how much wind.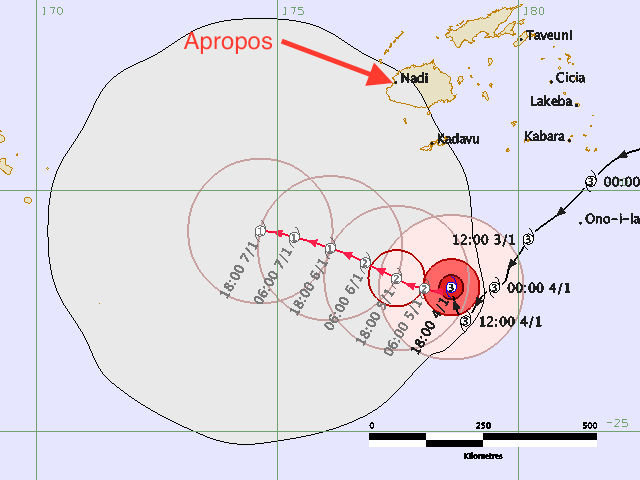 Update on Jan. 6, 2016–Cyclone Ula continued moving west and is presently a Cat1 system.