We departed Ixtapa for the 240 mile trip back to Banderas Bay, making stops at some of our favorite places as well as some new ones.
Manzanillo
After a very long 36 hour motor-sail up the coast to Manzanillo, we anchored in the bay next to the Las Hadas resort, where we relaxed around the pool for 2 more days.  This was our favorite stop on our southbound run between Banderas Bay and Zihuatanejo so we were looking forward to spending a few more days there.  The beach and resort were set locations for the movie "10" with Bo Derek and Dudley Moore.
Melaque and Barra de Navidad
Since we bypassed this bay on the way down to Zihuataneo, we decided to stop for a few days.  The two small towns are at opposite ends of a large bay surrounded by sandy beaches and palapas.  An added bonus was that SV Family Circus and SV Pelagic were both going to be there.  After dropping the hook, we immediately took the dinghy ashore and met them at a beach-side palapa for drinks.   Some highlights of our 3-day stay included a potluck aboard Family Circus, a visit to the French Bakery in Barra, a sleepover for Jacintha aboard Family Circus, roasting and drinking coffee aboard Pelagic, and exploring the small, quaint towns that seem to be like what small US towns were like in the 1970's.  Jacintha was sad to say goodbye to Amaia and Alina but we hope to meet up with them again in the South Pacific.
The next morning SV Ohana pulled into Melaque bay and we met them for a late lunch and  a walk through town. Jacintha had a fabulous playdate with Hannah making music videos on the ipad whilst we had drinks and nibblys with Jake and Danielle.
La Manzanilla
Manzanilla (not to be confused with Manzanillo, which is further south), is in the same bay as Tenacatita.  It's at the south-eastern part of the bay and therefore doesn't offer good protection from the typical winter north-westerlies.  Since the wind was coming from the south, plus SV Seahorse V and SV Velvet Sky—both kid boats—were there, so that's where we ended up!  We had a fantastic potluck aboard Seahorse V and Jacintha got to play with Billy, Gracie, and Bucket.  Captain Steve had just caught a Dorado that was great tasting along with a bacon-potato dish, fresh guacamole, red wine, and a chocolate cake.
As we are getting closer to our departure date for the South Pacific, we are having to say goodbye to boat friends we have made who are headed in a different direction.  This is the case for Seahorse V, Velvet Sky, Ohana, and Pelagic, who are all headed south to Central America and beyond, or for some, spending another season in Mexico.  It's been especially hard for Jacintha to say goodbye to the friends she has made.
Chamela
We had a nice 30 mile sail from Manzanilla to Chamela.  A southern 15 knot wind kept us moving at 7 knots the entire way.  We brought in a small Skipjack Tuna just outside Manzanilla and a nice Yellowfin Tuna at dusk just before arriving into Chamela so it was an interesting night time anchoring session. Good thing the bay was very wide.
Chamela is a small village with a few tiendas and palapas.  The main street is paved but the side-streets are all dirt.  The bay is big and offers protection from north-westerlies.  When we arrived just near dusk, there was only 1 other boat anchored there.  By the following evening there were 10.  Chamela is 100 miles south of Puerto Vallarta and is a popular stop because it's the first good anchorage for boats heading south or the last one for boats headed north.  During our 2 days there we rowed the dinghy ashore, played on the beach, and bought some fresh produce at a tienda.  Karen and Jacintha swam back to the boat as I rowed the dinghy.
Yelapa
An overnight passage of 90 miles brought us to Yelapa, a funky little village in Banderas Bay about 15 miles southwest of Puerto Vallarta. We decided to stop there for a day before heading to the La Cruz anchorage.    It's surrounded by rugged mountains and has no road access, so people arrive either by boat or horseback.  Electricity was brought to Yelapa just 14 years ago.  We tied up to a mooring buoy and took a panga to shore where we ate at one of the beach restaurants and bought slices of coconut and lemon meringue pie from the pie lady who walked the beach balancing a basket full of pies on her head.
The highlight of the stop was horseback riding up into the mountains to a waterfall.  We thought it was going to be a typical guided tour type ride, and were surprised when they let us go off on our own with two horses—Jacintha and I on a larger one and Karen on her own.  The trail crossed a shallow river and meandered up the mountainside past homes and restaurants.  The trail was mostly cobblestone and barely wide enough for the occasional 4-wheeler to get by us.  It was also very steep and I kept thinking the horse would slip on the wet cobblestones.  We were told to go until we reached a church, then turn left.  Luckily for us, the horses have been on the trail many times so they knew where to turn!  When the horses stopped, we knew we were at the place where the man told us to tie the horses to a pole.  Then a short walk and we were at the high cascading waterfall with a pool at the base.  The water was a bit cold but we all jumped in and enjoyed the refreshing pool.  On the way back, the horse Jacintha and I were on must have been hungry as he galloped most of the way, ignoring any commands of WHOA and pulling back on the bridle.  Karen's horse, on the other hand, stopped to relieve itself and then stopped again at the river for a drink, so they arrived 10 minutes later.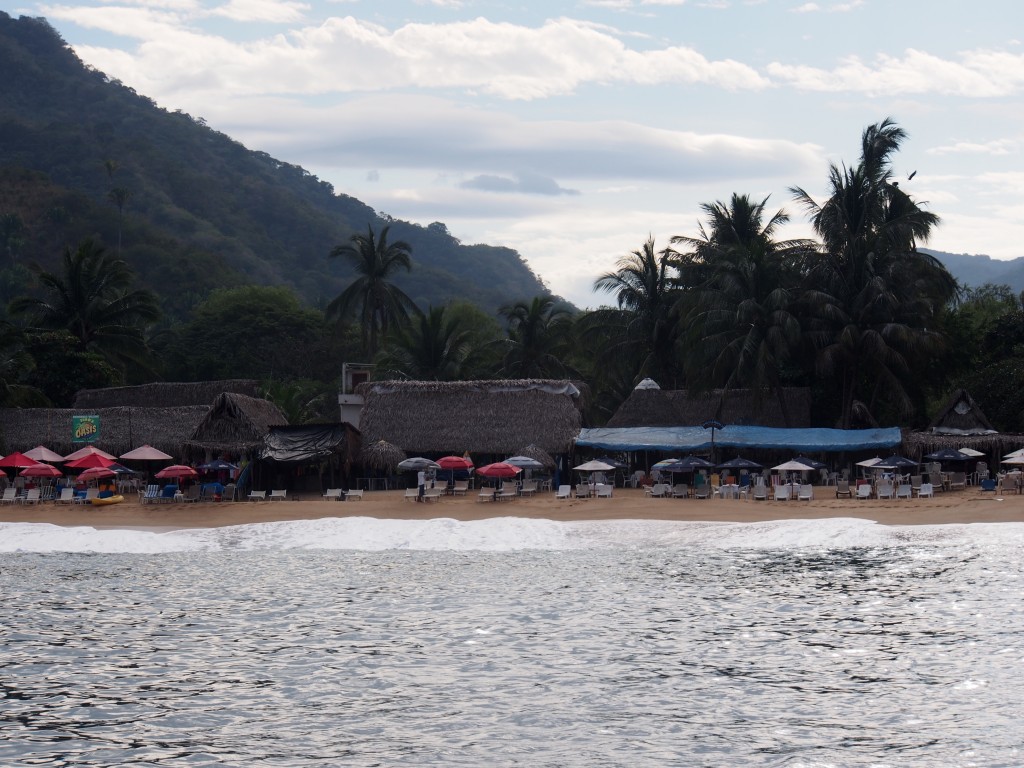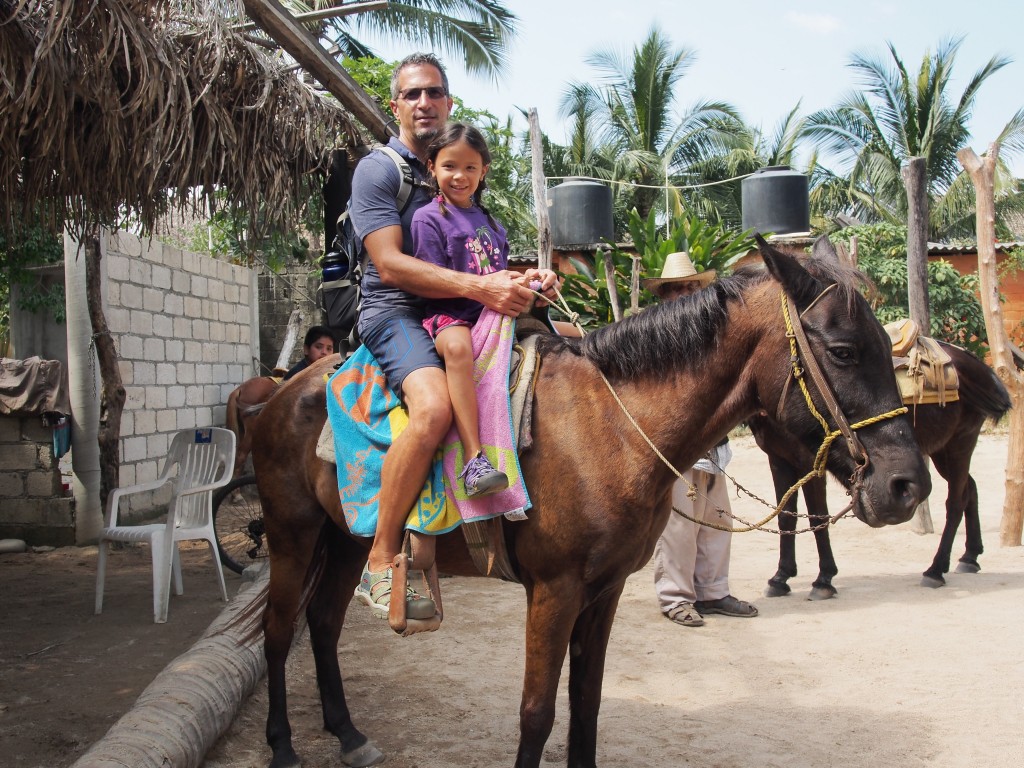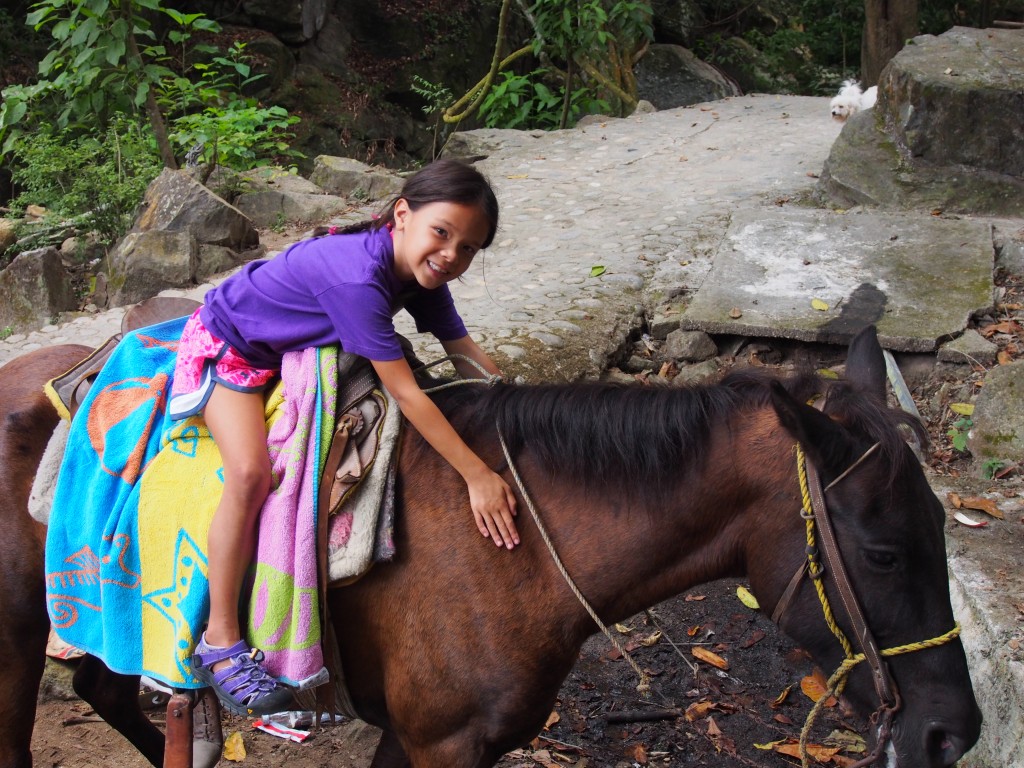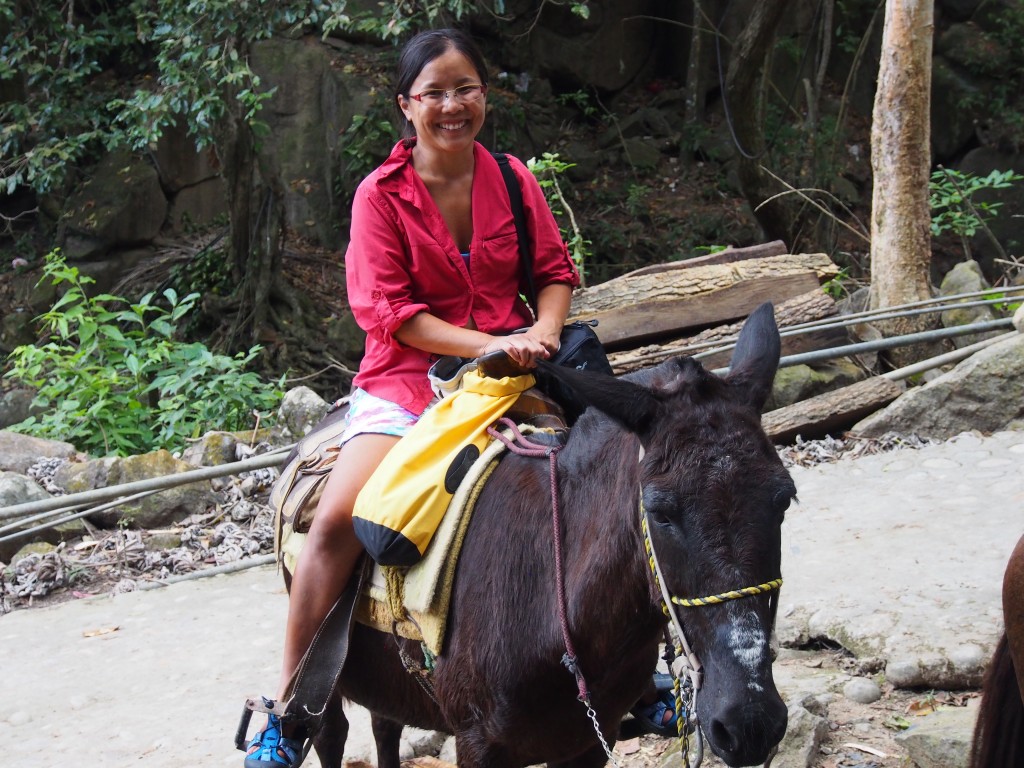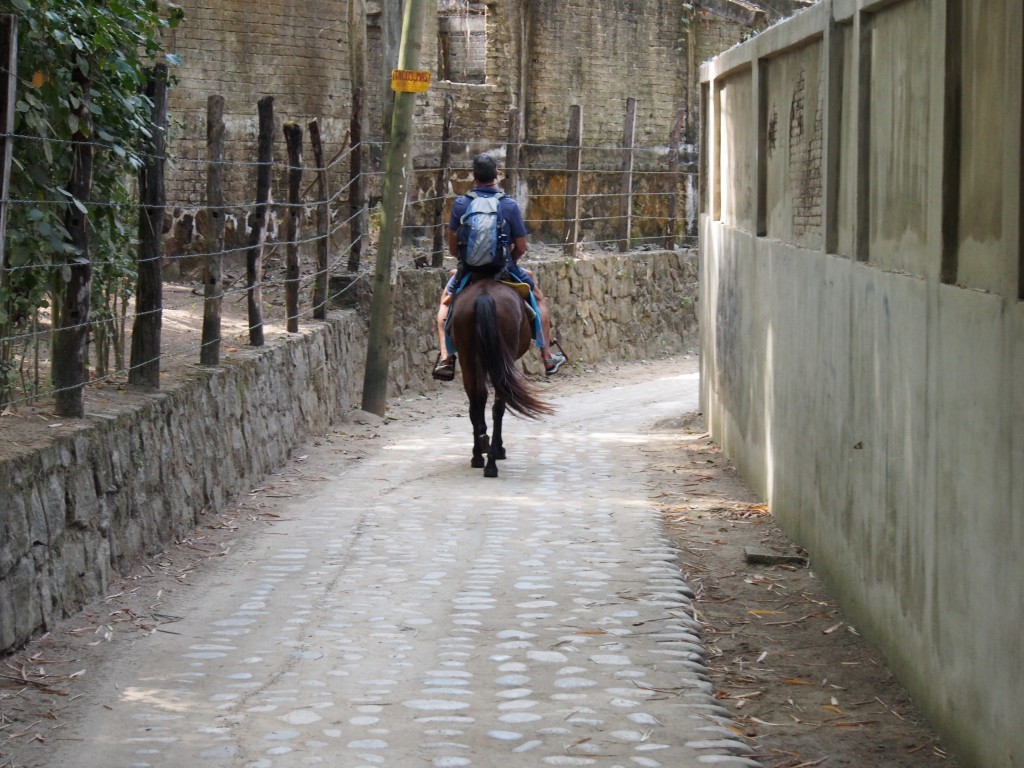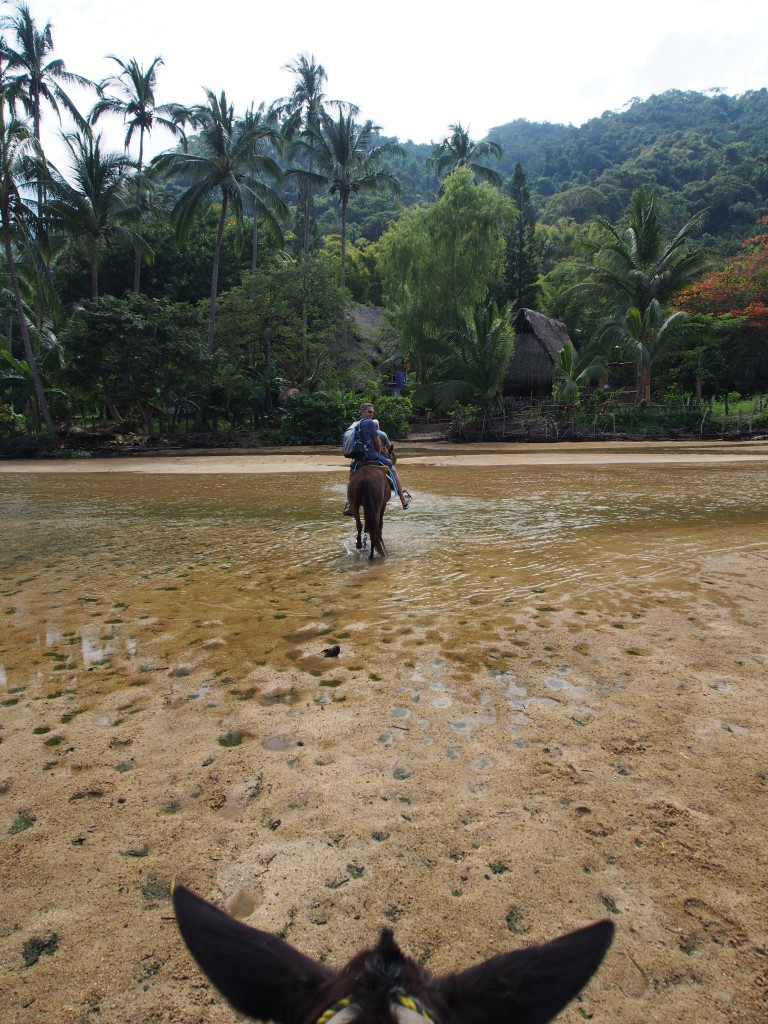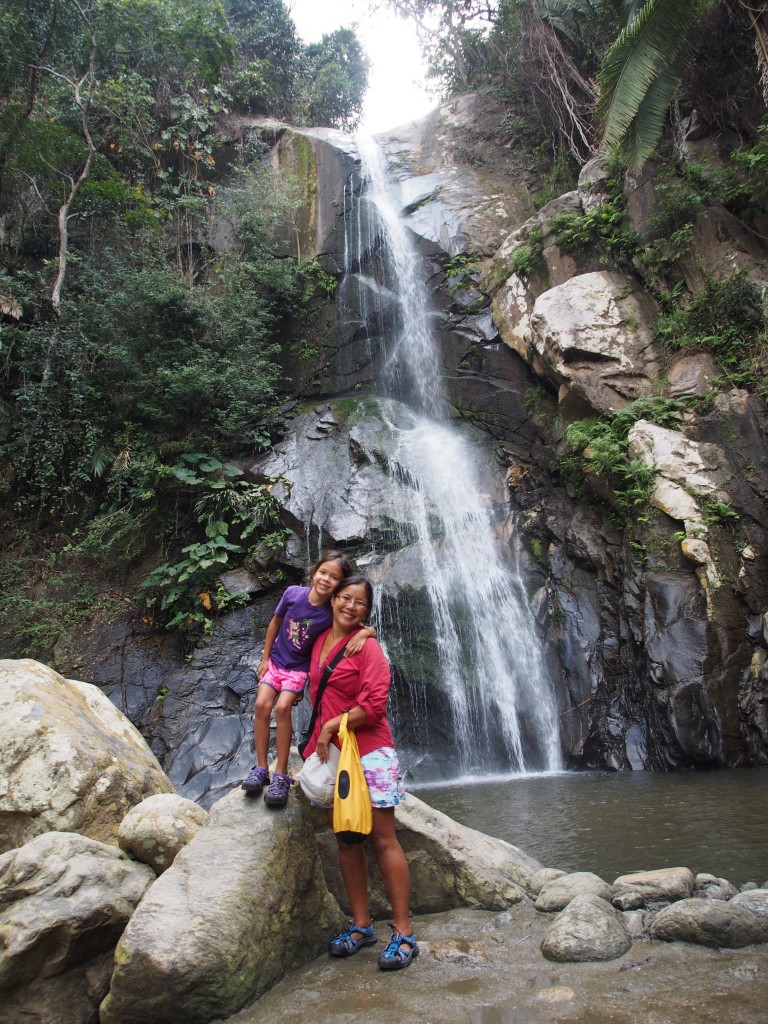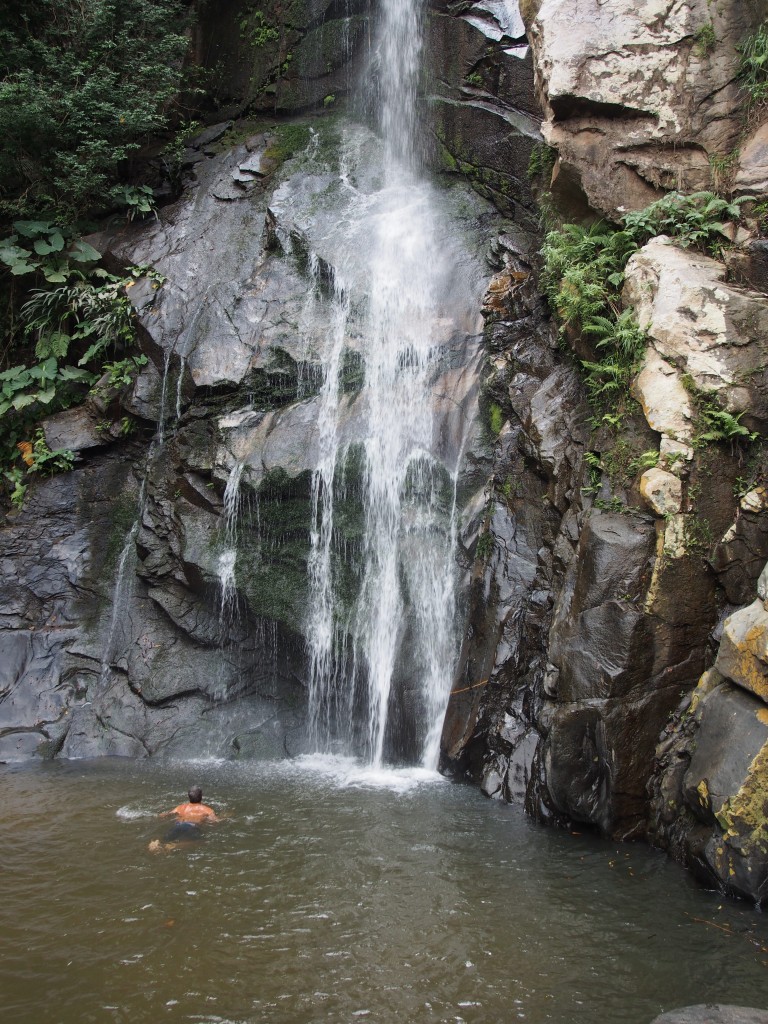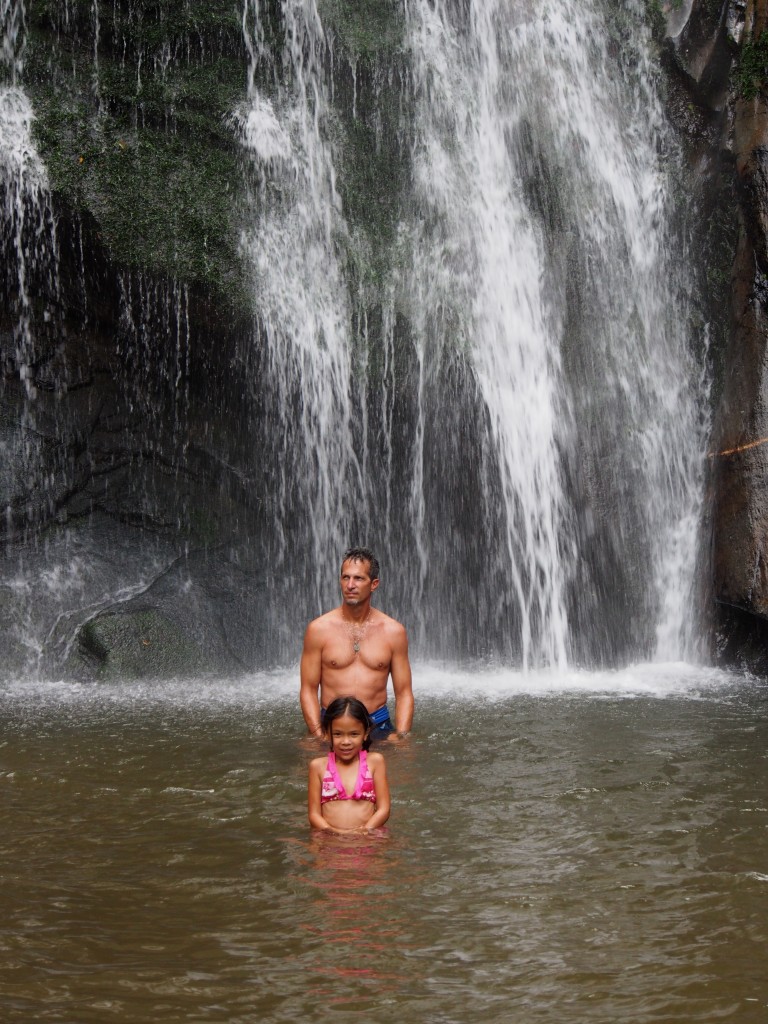 Some boat related things:
Changed the engine oil & filter in Manzanillo since we've been motoring a lot and it was easy to dispense of the used oil at the fuel dock.  I normally change the oil every 100 engine hours, but when using the engine so much while cruising (especially in Mexico where winds are light), most cruisers go a couple hundred hours between changes.  The last time I changed the oil was in La Paz, 300 engine hours ago—that's a lot of motoring in 2 months!
Spent 2 hours using the hookah system to dive under the boat to clean the barnacles off the bottom.  The bow thruster cavity and stainless steel thruster props were heavily coated with barnacles since I hadn't cleaned there before.  Other challenging areas were the main propeller and the very bottom of the keel.  I also made sure to clean the knot paddle and thru hulls well.  The hookah has proven to be invaluable for bottom cleaning as well as replacing zincs and dealing with fouled props.  We hope to use if for shallow recreation dives in the south pacific.
Dug out the shade cover for the boat and found it makes a huge difference in keeping the boat cooler during the day.  The cover came with the boat but we improved it by buying custom-made, collapsible fiberglass poles (just like tent poles) and sewed pockets into the cover.  We moved the solar panels onto the bowsprit so they still get the full sun.
Karen worked on making some canvas cockpit pockets.  The cockpit always seems to be littered with small things such as iPhones, iPads, Kindles, hose nozzle, deck plate wrench, sail ties, snacks, and so forth.  The dodger has 2 small built-in pockets that are always full.  The new pocket will be large enough to fit an iPad, which we use for navigation, and will attach to the weather cloth.