As the saying goes:  Cruising is fixing your boat in exotic places
I spent a good part of the day fixing things:
One of the dual Racor fuel filters had been dripping fuel into the bilge (onto absorbent pads) for a couple of weeks.  I've tried replacing o-rings on the threaded drain knob at the bottom of the bowl several times in the past, but it continued leaking a few ounces per day.  It was a nuisance cleaning up the pads and once I forgot to check things for a week and had to remove a half gallon of diesel from the bilge using a drill pump.  I noticed if I tightened the plastic drain too much, the o-ring compressed too much and it leaked faster.  But even loosening it by various amounts wouldn't stop the leak all-together.  Removing and inspecting the drain plug, I noticed the bottom of the plastic bowl was a little uneven, so I filed it smooth with a very fine file.  I also put a bit of silicone gasket sealer on the threads next to where the o-ring seats.  After screwing the plug back in and re-filling the bowl with diesel, it seems to have stopped the leaking–at least 24 hours later, I'll keep an eye on it!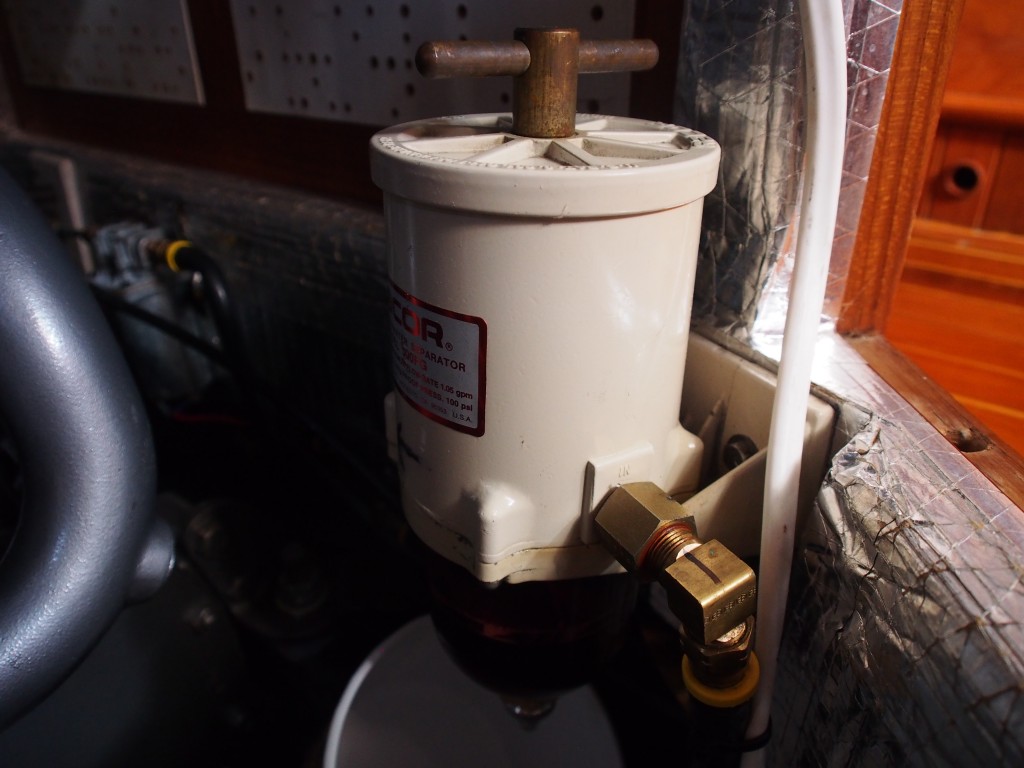 Our Fleming self steering wind vane, nicknamed Ian, never really worked right and I think I finally found out why!  Another cruiser (Scott from SV Velvet Sky) was telling me how well his wind vane steered his boat and offered to take a look at mine.  His is a Monitor, but works the same by turning the wheel in response to veering off a set course with respect to the wind.  The problem with Ian, is that he seemed to turn into the wind all the time and never corrected course.  Analyzing how the wind affects the vane, which affects the servo-pendulum rudder, which in turn moves the wheel, we realized that the lines going from Ian to the wheel drum needed to be reversed, or criss-crossed, to make the wheel turn in the correct direction!  I decided to cross them where they were routed through the lazarette, which was more difficult than crossing them near the wheel drum, but provided a fairer lead through the blocks.  Can't wait to test Ian out on our next sail!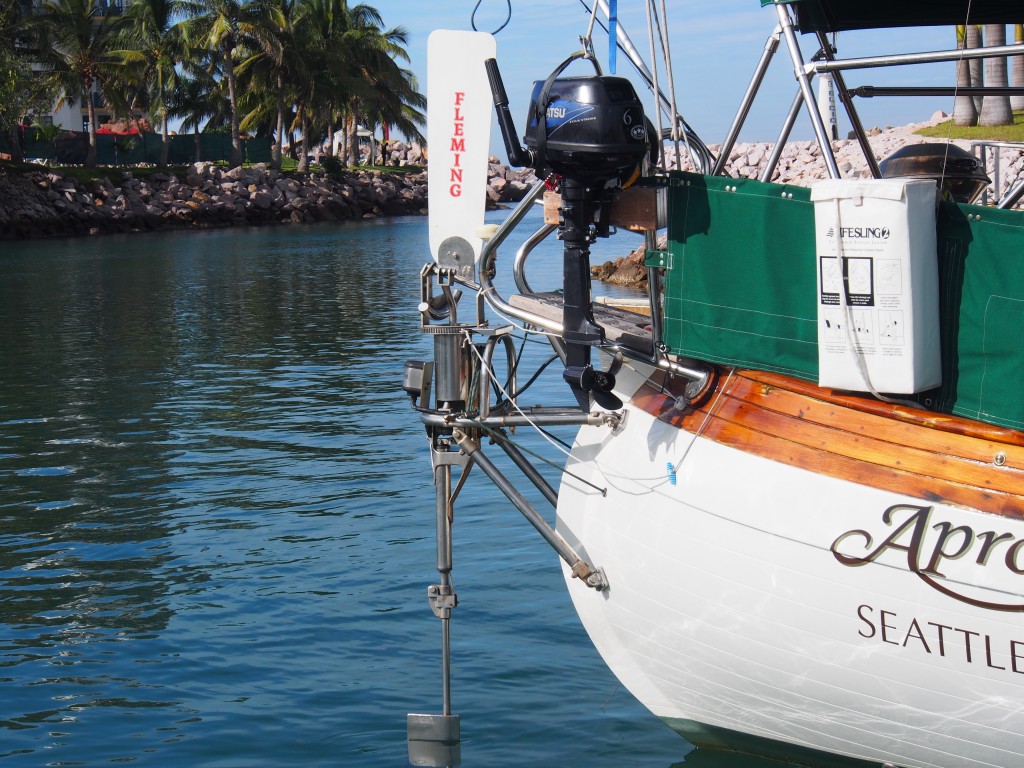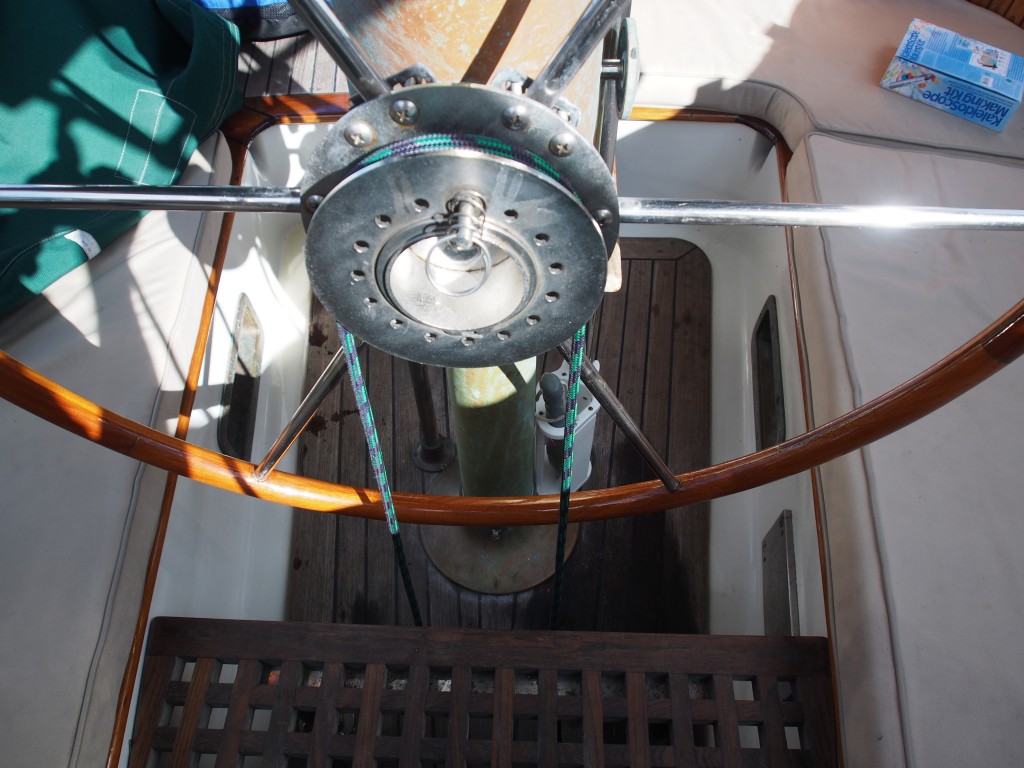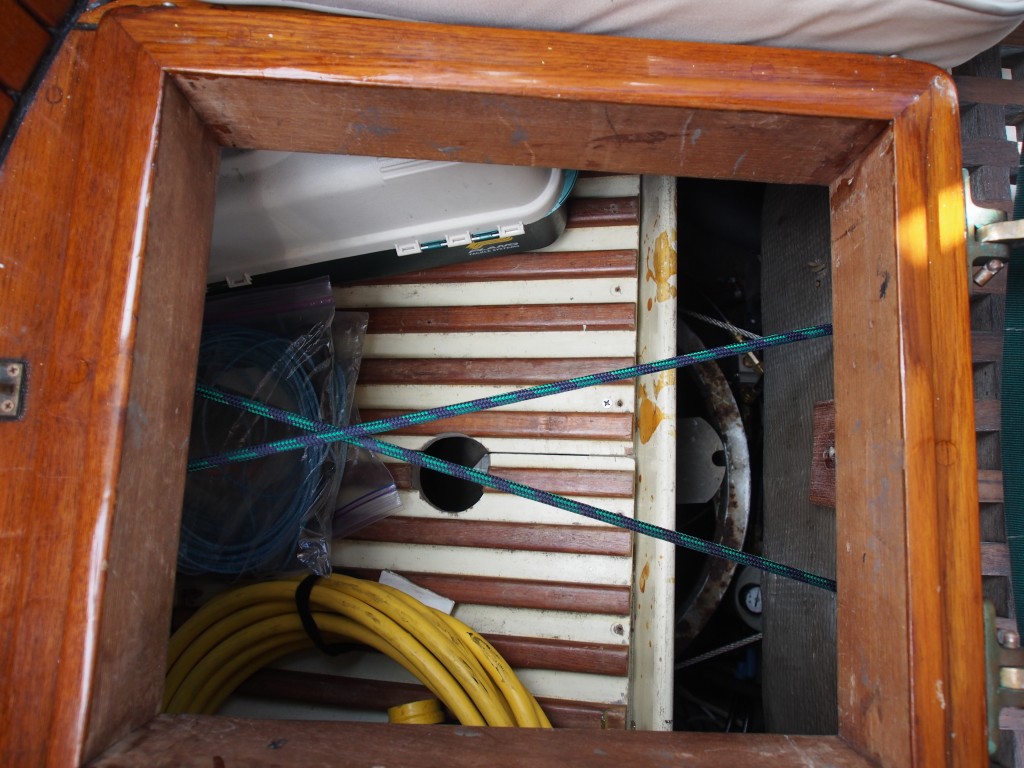 The head felt like it wasn't flushing properly.  The Y valve that steers waste either into an onboard stainless steel tank or overboard was getting harder to move, and with the valve in the tank position, you could hear some of the water going overboard.  So I disassembled the Y valve and right away could see the problem–lots of calcium deposits had built up so the valve wouldn't completely move to the tank position.  This was not a fun job, but was finished in about 2 hours and now the Y-valve operates much better.