Today is day 14 on the Hawaii to Seattle passage. We are at 43deg30min N, 145deg27min W on a heading of 65 degrees. That puts us roughly 2/3 of the way there! We motored for another 20 hours last night before the wind returned at noon and we've been averaging a fast 6-6.5 knots since. Weather has drastically changed to slate-grey overcast days and cold, damp nights. We're surrounded by fog now with visibility of a half mile. We've been in the shipping lanes for a few days now and spot 2-3 cargo vessels daily on AIS. Closest point of approach has been 20 miles or more, so no visual sightings. Some are going west to Asia and some are moving east to SF, LA, or Panama.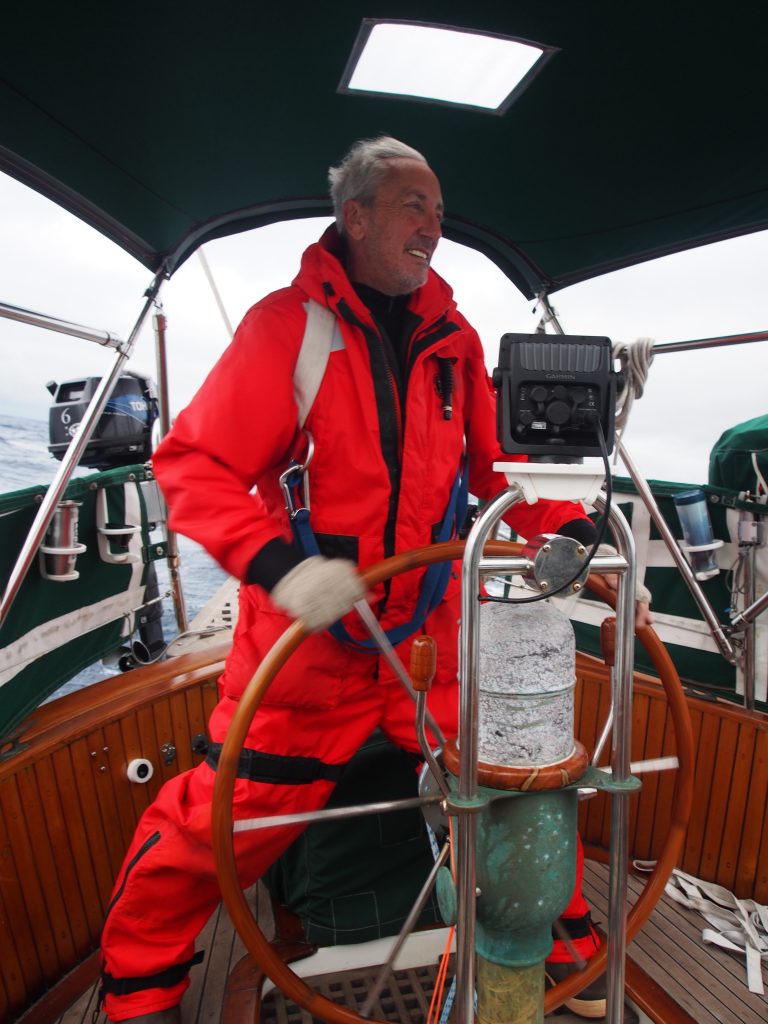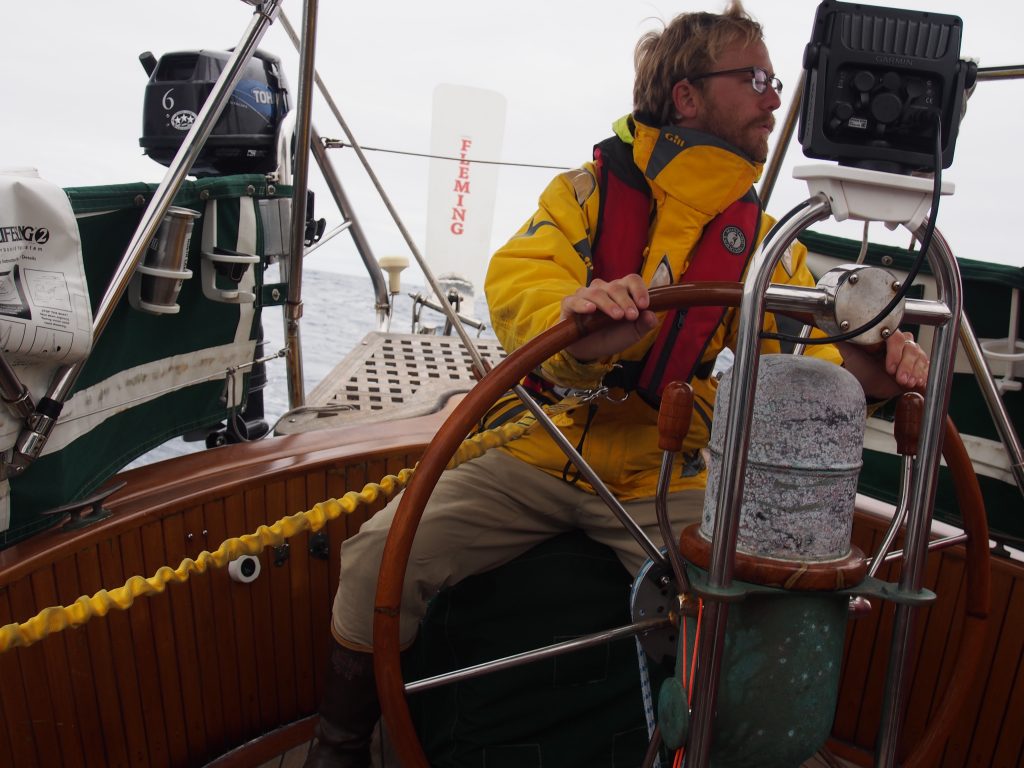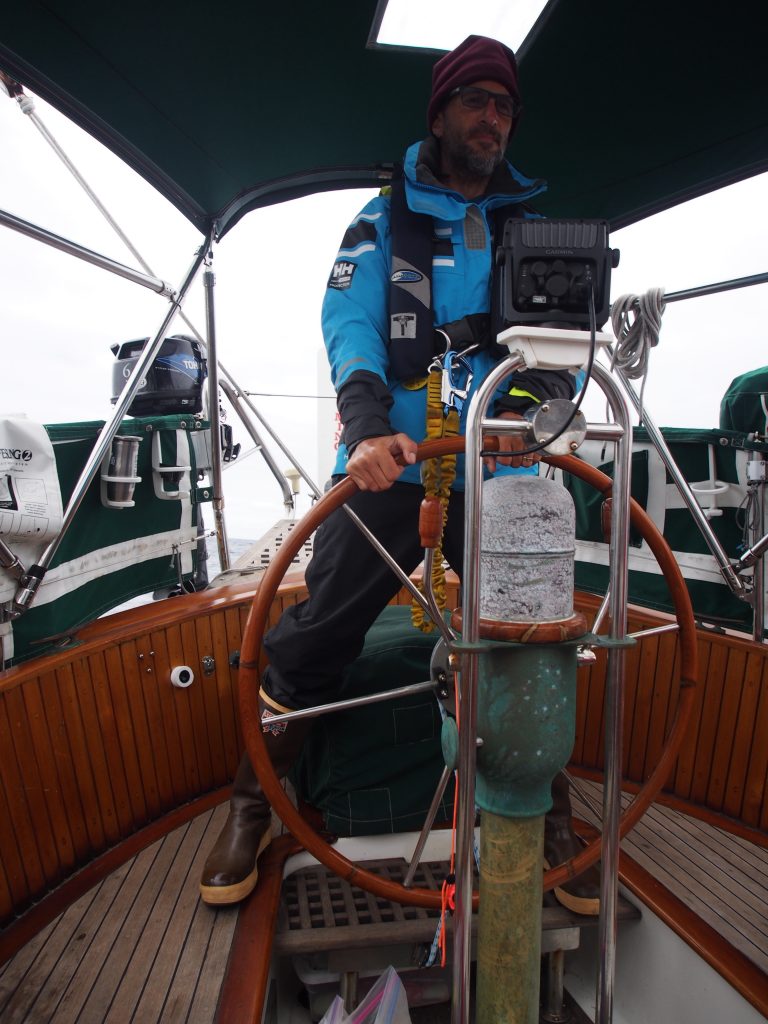 Some issues we've been dealing with–
1. Engine is not running well when using the starboard tank. The rpm's go up and down, signaling a flow restriction between the SB tank and engine. We circumvented the problem by running only on the port tank and pumping fuel from the SB tank into jerry cans, then topping up the port tank as needed. This worked until it didn't–as the SB tank drew below half a tank, our fuel pump wasn't able to lift the fuel to the jerry cans on deck. Today we removed the 12″ plate on the SB tank (located under the aft berth where Brian sleeps) and were able to pump the remaining 25 gallons out, emptying the tank. It was hard, tedious work with the pump filling a 5 gallon jerry can in 30 minutes. This was done in the morning when the seas were still flat, and was accomplished without spilling much in the cabin. We're now happy that we have access to the remaining 80 gallons of fuel if needed.
2. We think we just figured out the cause of vomiting with John and Brian recently–both ate un-refrigerated cheese. We didn't think those wax-wrapped cheese needed refrigerated. Problem is, I just ate one 2 hours ago (before we figured it out)! Will report back on this later…
3. Damp, damp, damp–without any sun to dry things out, most of our clothes and bedding are damp. Makes it a challenge to get out of bed for night watch. Then it takes 10 minutes to get prepared for the cold. I'm now wearing 3 layers top and bottom, Tuf neoprene boots with wool socks, gloves, wool hat, and foul weather top and bottoms. This ain't the South Pacific I'm accustomed to! Despite the above issues, morale is great aboard. John and Brian have been awesome crew and fun mates. Both are boat owners and know lots about boat maintenance, engine issues, sail trim, etc. We still have plenty of food and even some fresh oranges and apples. I sliced up 1 of our 2 Hawaiian pineapples today. Brian has been chief cook and makes dinners like spaghetti and burritos. John's specialty is pancakes. Mine is making coffee and doing dishes! I pull in GRIB files daily on the SSB radio to provide us with weather info. After sailing north from Hawaii for 1100 miles, we turned NE and set a great circle route to Cape Flattery. We use the daily weather updates to determine whether or not we can stay on the great circle route, and so far we have been. At our current rate (130nm daily average), we should enter the Strait of Juan de Fuca in 7 more days.